Best luxury electric SUVs tested: Jaguar I-PACE vs Tesla Model X
With the arrival of the I-PACE, the Model X is no longer the only player in the premium electric crossover field – question is can Jaguar beat Tesla at its own game?
The small city car dominated the first generation of electrified vehicles, but a surge of electric SUVs set to arrive over the next 18 months or so could help bring emissions-free motoring further into the mainstream. After all, according to JATO, SUVs counted for almost 36 per cent of European passenger car sales in 2018. At the time of writing there are just two all-electric SUVs on sale – Jaguar's I-PACE and the Tesla Model X, but Audi is now taking orders for its e-tron and Mercedes is not far behind with its EQC.
The fully electric version of BMW's X3 and Volvo's XC40 is also confirmed for production this year, together with the Hyundai Kona Electric and Kia Niro EV SUVs. Okay, so they're less expensive, but still offer a range of more than 200 miles on a single charge. What's more Ford is saying it will release an all-electric crossover inspired by the Mustang next year, which should arrive around the same time as Volkswagen's offering – the I.D. Crozz.
The all-electric crossover segment is heating up but it's too early to rank all of these cars, of course, so for now we pit the Tesla Model X against the Jaguar I-PACE to find out what's best. Some journalists say the I-PACE doesn't lend itself well to a suitable comparison against the Model X (or even Model S), and the fairer test would be against the forthcoming Model Y crossover, but that isn't yet being produced. The fact is, they're both electric SUVs and even Jaguar pitted them against one another as part of its promotional material (which you can see here), and we too are game to see which is best.
2018 Jaguar I-PACE
Jaguar was not the first car manufacturer to produce an electric SUV, with Tesla launching its Model X in 2016. Although it's a much bigger car and costs a lot more, it is still the only other competitor in the EV luxury SUV club – for the time being at least.
Both the I-PACE and Model X are four-wheel drive provided by an electric motor on each axle. Together in the Jaguar they provide 395bhp and 512lb-ft of torque, propelling it from zero to 60mph in 4.5 seconds (interestingly the e-tron will be a full second behind with 397hp and 490lb-ft of torque, but the 402bhp Mercedes EQC with 564 lb-ft of torque 0.6 seconds slower) and top out at 124mph. It's not as fast as the Model X P100D – which boasts the quickest acceleration of any SUV on the road, but the I-PACE is still quicker than the majority of other electric cars.
There is optional adaptive air suspension with variable ride height, which is good if you want to do any off-roading (with up to 11 inches of available ground clearance and a wading depth of 19.7 inches), but the standard bespoke suspension on 18 inch wheels is more than good enough. With the batteries beneath the floor for a low centre of gravity and 50/50 weight distribution, it grips in the corners and stays flat with very little body roll. It does a very good job of reigning in its 2208 kg tonne mass (the e-tron is surprisingly heavier at 2490 kg) and even when being pushed hard you can feel the motors shuffling power between the wheels to help hold maximum traction and maintain your line. Steering is well-weighted and precise, too, and the two-mode regenerative braking is strong enough to permit one-pedal driving when set to high regeneration (there is a gentler mode for drivers who prefer the car to coast down, albeit still with some regeneration). To sum up, the I-PACE is an entertaining drive for an electric SUV and definitely the driver's choice.
The 90kWh battery provides a range of up to 292 miles on the WLTP cycle – again outdoing most other electric cars. Recharging the batteries to 80 per cent via a standard wall box takes ten hours, while 50kW public chargers reduce that time to 85 minutes and 100kW chargers take just 40 minutes. That said 100kW public chargers are few and far between, and Tesla's Superchargers already offer 120kW charging as well as an industry leading network. The upcoming Audi E-tron will be the most advanced on the market when it launches: it will have a battery capacity of 95kW and be able to charge at 150kW, allowing it to reach 80 per cent capacity in 30 minutes using certain DC fast chargers. That said it's claimed to manage 250 miles on a full charge (with the Mercedes EQC said to manage 280) so slightly less than the I-PACE.
Without the need for a petrol or diesel engine, it's allowed the stylists to experiment with neater, sleeker and more compact front-end designs. It is clear Ian Callum's had a hand in it, with visible design cues from the car maker's present portfolio yet it still manages to look futuristic. With its proper front grille (which provides battery cooling), coupe-like roofline, high beltline and short rear overhang – it's the more handsome in this comparison.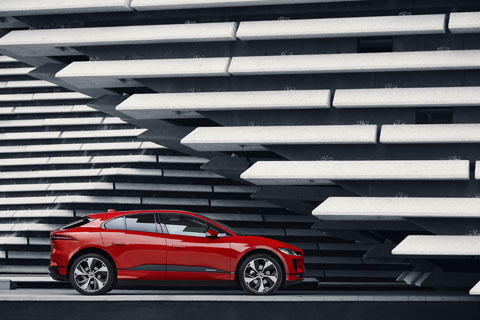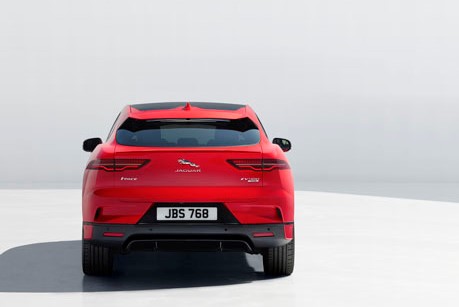 The interior is equally as stylish. Inside the standard sports seats look as good as they feel. There's plenty of head and leg room, too (both front and rear), and there's no shortage of storage either – the trays beneath the rear seats which keep any possessions away from prying eyes is quite useful. Unfortunately there's no seven-seater option, which is a downside with the Model X offering a third boot-mounted row of fold-out seats, but then it is a significantly smaller SUV than the Model X – 4682 mm length versus 5037 mm, 1565 mm height versus 1684 mm, and 2139 mm width versus 2271 mm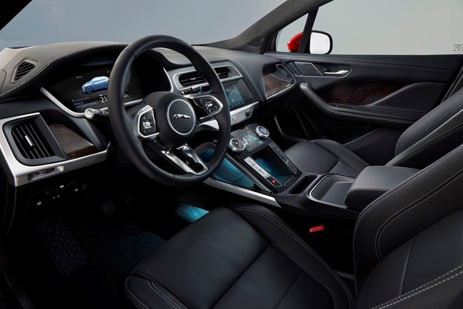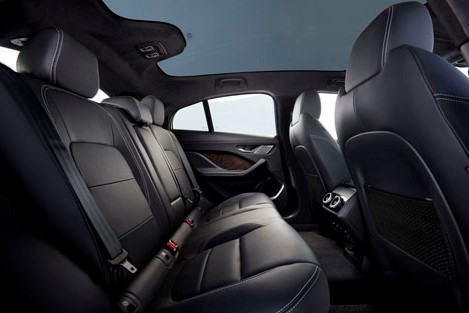 Another let down is the boot – despite the fact Jaguar positioned the passenger compartment further forward, the I-PACE's boot is still a lot smaller than the Model X even with the rear seats down. It does at least have a compartment beneath the boot floor for the charging cable, and a second boot at the front of the car, although it's too small for even a carry-on suitcase.
At the heart of I-PACE is a floating centre console with the Touch Pro Duo, a 10 inch touchscreen for the infotainment system and below it a smaller (5 inch) one that takes care of air-conditioning and some supplementary controls. In front of the driver is a slick 12.3 inch digital display, which lets him or her choose what information they want and in what configuration. 4G Wi-Fi Hotspot capability is standard, as is their navigation system with range-maximising route recommendations. Despite all of the ergonomic benefits, their latest multimedia set-up is often slow to respond to touch inputs, the myriad of menus is far from intuitive and it's frustrating to use on the move. You can now at least get Apple CarPlay and Android Auto in a Jaguar.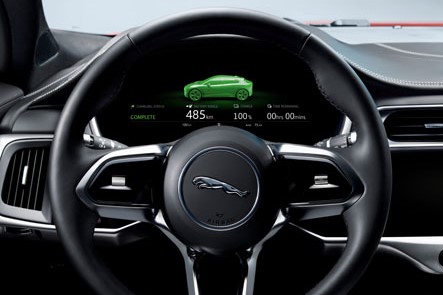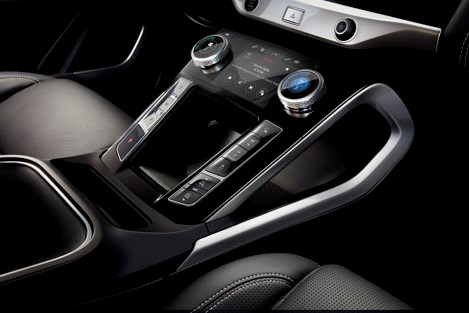 There are three trim levels available – entry-level S spec which still features a lot of kit, such as keyless entry, dual-zone climate control, ambient interior lighting, lane-keep assist, low-speed automatic emergency braking and a traffic sign recognition system. It's our pick of the range, but those with extra cash to spend might want to look at the mid-level SE spec with bigger wheels fully electric memory front seats and more safety gear, or the range-topping HSE.
While the I-PACE and Model X is exempt from the regular £140 road tax and London Congestion Charge, you do have to pay an annual luxury car road tax surcharge of £310. There's obviously further savings to be had in that charging the battery will work out a lot cheaper than filling up with petrol or diesel and for company car drivers it makes a lot of sense, attracting a low benefit-in-kind (BIK) tax rating. The e-tron and EQC is said to have a similar base price to the I-PACE, spend half of that again and you'll be able to afford an Model X. Interestingly for the first 16 days of October, Jaguar I-PACE outsold Tesla Model S and X combined in Norway by 40 per cent, which is highly relevant as this country has the highest percentage of EV sales in the world, a number which when combine with plug-in hybrids reached 60 per cent.
Key Specs
Price:

From £60,995 (including plug-in car grant)

Top speed:

124mph

0-60mph:

4.5 seconds

Driving range (WLTP):

Up to 292 miles

Charge time:

10 hours 0-80 per cent (using Jaguar 7kW wallbox) or 40 minutes 0-80 per cent (100kW rapid charging) or 80 minutes (50kW charger)
Tesla Model X 100D
Jaguar may have beaten European rivals to unveil the first large, all-purpose, premium electric family car but it wasn't the first, with the Tesla Model X introduced a few years previously. In 2016, it was a pioneer in technology, but is it still ahead of the game or should Tesla be worried, especially with further electric SUVs on the horizon?.
From new there are two models available the 100D with a 0-60mph time of 4.7 – making it 0.2 seconds slower than the I-PACE and therefore our pick for the comparison test, or the P100D with what they call 'ludicrous acceleration' shaving the zero to 60mph sprint down to 2.9 seconds! That performance comes at a price, which all in amounts to an eye-watering £134,150 – that's £42,500 more than the 100D. Tesla used to offer an entry level 75D which was more comparable in price to a base level I-PACE, but it chose to discontinue its 75 kWh battery versions of the Model S and Model X as from January 2018, meaning any new Tesla will cost more than £90,000. Ouch.
On paper, the Model X 100D offers a battery range of 351 miles, which is a lot more than the I-PACE. However, the I-PACE has been measured using the Worldwide harmonised Light vehicle Test Procedure (WLTP), which is widely believed to provide more accurate measurements than the New European Driving Cycle (NEDC) system used to calculate the Model X's range. Electric Vehicle Database has quoted an NEDC figure for the I-PACE, which is 337 miles, so the difference between them seems marginal.
It will take just 30 minutes to recharge to 170 miles when connected to one of Tesla's DC fast-chargers, or about an hour to charge from almost flat to almost full. There are now more than 30 such stations in the UK, and Tesla will give you 400kWh of free power (between five and eight typical charges) per year. After that, electricity is chargeable at 20p per kWh, so a full charge costs less than £20. Charging at home is likely to take in excess of 12 hours or longer on a three-pin domestic plug, and cost about £10 at typical UK electricity rates.
Two drive modes are available: Chill and Sport. The former is the calmer setting and the accelerator responds less fulsomely to inputs in this mode. Sport improves accelerative responses. While there's no complaints when it comes to performance it offers quite a hard ride in an attempt to retain control and while it rolls less than a lot of other SUVs, it's also 251 kilograms heavier than the I-PACE which doesn't go unnoticed especially when you brake hard or turn in quickly. While it's genuinely useful on the motorways and its near-silent propulsion (together with good wind and tyre refinement), make it a relaxing cruising car, it is certainly the least engaging of the two when it comes to country road driving.
But the Model X's trump card is Tesla's Enhanced Autopilot, which is one of the best semi-autonomous driving systems on the market. The £4900 upgrade will match speed to traffic conditions, keep within a lane, automatically change lanes without requiring driver input, transition from one motorway to another, exit the motorway, self-park and be summoned to and from your garage. Even if you don't upgrade, standard safety equipment includes collision avoidance and automatic emergency braking.
Looks-wise, it's pretty similar to the updated S but it's still very distinctive compared to everything else on the road. Its clean lines also belie how big it is – available in five, seven (£2322) or six-seat £4643) configurations. There's no getting away from the fact it's far more utilitarian looking and that's because its focuses on function rather than style. Still its Falcon Wing doors set it apart from the Model S, and in fact every other vehicle. They may look a bit flashy but they do easily allow for passengers to hop in and out, especially when parked close to other cars (only require 30cm of space), even if a bit slow.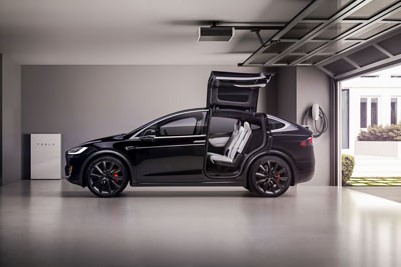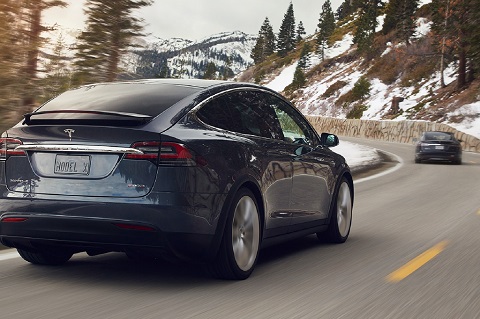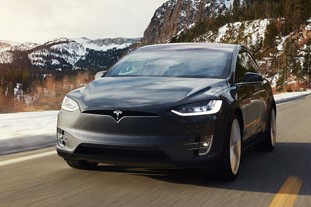 That practicality continues inside too, with the seats able to electrically fold or move at the touch of a button. Without the third row the boot is big with an impressive 2180 litres of space, and there's a 187 litre boot in the front, too. Compared to the I-PACE's 656 litres, which still only expands to 1453 litres with the rear seats folded flat (meaning you can't take any passengers), gives the Tesla a big advantage. Our only gripe is that there's no folding centre armrest in the second row. The cabin is a lot more minimalist, simple and modern compared to the Jaguar's which is quite busy, and that's because of the love it or hate it massive 17 inch touchscreen, which controls much of the Model X's infotainment and convenience features. Some like the whole tablet-style experience, but it is annoying having to dig through the on-screen menus to do just about anything. Even so, Tesla's infotainment system is undeniably the more refined of the two.
The materials are fairly impressive but by comparison the I-PACE feels very plush, more solid and generally just better finished (it's as understatedly Jag as you might expect), although it's fair to assume that the Audi e-tron will be another step up from the British EV. Both the I-PACE and Tesla X have been designed with impressive forward visibility but they also have near-useless rear visibility.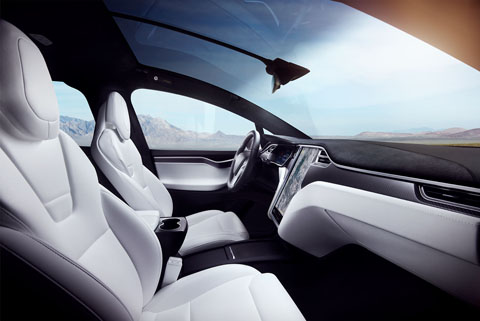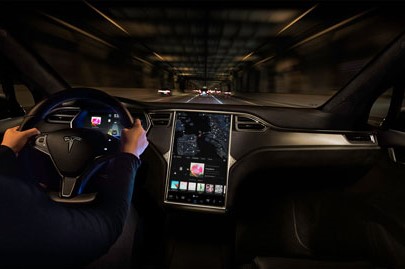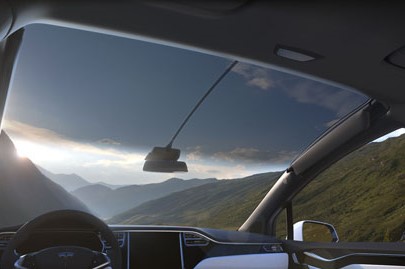 The Tesla X comes with a four year, 50,000 mile limited warranty and the battery is covered for eight years with no mileage limit, in comparison the I-PACE comes with a three-year, unlimited-mileage warranty and the battery is also covered for eight years but it's only valid if you don't exceed 100,000 miles during that time. Jaguar is also following the Tesla's example by offering wireless software updates for the infotainment system and battery charging capability, reducing the need to visit dealers.
KEY SPECS (100D)
Price:

£91,650 (including plug-in car grant)

Top speed:

155mph

0-60mph:

4.7 seconds

Driving range (NEDC):

Up to 351 miles

Charge time:

In excess of 12 hours (using a 7kW charger) or about one hour from almost flat to full (using a 150kW Tesla Supercharger)
Verdict
The Jaguar I-PACE and Tesla Model X are competing in two sectors of the car market that are growing fast – electric and SUV, and with many more challengers from the likes of Audi, BMW, Mercedes, Porsche and VW looming in the near distance, it's hard to say for sure how they will fair. Similar in their performance (P100D excluded), driving range and crossover body style, neither will convert the masses to electric motoring as they're far too expensive. The likes of the Hyundai Kona Electric and Kia Niro EV SUVs, offering similar ranges for much less money, will no doubt prove the more popular.
Each car has its pros and cons – the Model X doesn't match up to the Jaguar's driving dynamics or build quality, and while subjective, the Jaguar is more aesthetically pleasing. Tesla has the advantage when it comes to technology and practicality however, with significantly more cargo and passenger space. It's also slightly quicker to charge and rated for towing. At the end of the day, with the I-PACE undercutting the Model X by over 30 grand, it will most likely come down to price.
Overall, they're both really great vehicles, each with their own merits, but our pick would be the Jaguar I-PACE. While the California-based company had previously established itself as a strong player in the EV market, Jaguar have been a traditional car maker long before even Elon Musk's father was born. Combined, no doubt with what it's learnt from Tesla (and other leading manufacturers of EVs), the I-PACE is a game-changer for the brand and the EV market, and the choice for premium, sporty EV buyers.