Top Five PHEV Company Cars
When it comes to company cars, diesel is no longer the default choice, with cleaner plug-in hybrid models attracting lower Benefit-in-Kind rates they are now starting to take over. We take a look at five of the best.
When it comes to looking at what company car suits you best, you should take a closer look at the financial implications. Company car tax rates are designed to encourage company car drivers to choose cars with lower levels of CO2 and (from April 2018) NOx emissions with incentives offered to companies and recipients of the vehicle.
Under the current system, company and employee company car tax are both based on a percentage of the car's P11D value (the price of the car, including any options, minus the non-taxable costs such as the registration fee and the first year's road tax) and the CO2 emissions. For the employee, the Benefit-in-Kind (BIK) is then taxed at the appropriate personal tax rate.
Company ownership of vehicles also effects how capital expenditures can be set against a company's profit. Whereas most cars use standard capital allowances, some Ultra Low Emission Vehicles are eligible for a 100 per cent first-year write down as part of the Enhanced Capital Allowance scheme.
Top Tip: A calculator is available at www.hmrc.gov.uk/calcs/cars and rates for ULEVs are shown in the table below:
Company car tax rates
| Vehicle CO2 (g/km) | Electric range (miles) | FY 2018/19 Bik Rate (%) | FY 2019/20 Bik Rate (%) | FY 2020/21 Bik Rate (%) |
| --- | --- | --- | --- | --- |
| 0 | 0 | 13 | 16 | 2 |
| 0-50 | 130+ | 13 | 16 | 2 |
| 0-50 | 70-129 | 13 | 16 | 5 |
| 0-50 | 40-69 | 13 | 16 | 8 |
| 0-50 | 30-39 | 13 | 16 | 12 |
| 0-50 | >30 | 13 | 16 | 14 |
| 51-54 | | 16 | 19 | 15 |
| 55-59 | | 16 | 19 | 16 |
| 60-64 | | 16 | 19 | 17 |
| 65-69 | | 16 | 19 | 18 |
| 70-74 | | 16 | 19 | 19 |
| 75 | | 16 | 19 | 20 |
Plug-ins (or hybrids) are perfect if you have the capacity to charge at either end of your journey, or if your commute is less than 30 miles making them lots more economical than their diesel equivalents while still benefitting from tax savings. In the long term, electric cars are the best option for company car drivers, but we would advise waiting until the BiK rate drops to two percent in 2020/21, when there'll no doubt also be a bigger choice of models with longer range between charges.
In the meantime plug-ins (and hybrids) offer the best of both worlds for those wanting a company car – at the moment they are generally cheaper than EVs to buy and will therefore have a lower P11D value. The other added bonus is that if you do a lot of miles in your company car, you don't need to worry the inconvenience of having to recharge with electric power for short trips and hybrid propulsion for long-distance motoring.
Here are our top five best PHEV company cars together with some key facts to help make your decision easier.
Toyota Prius Plug-in
The second generation Toyota Prius Plug-in is one of the cleanest cars on the market emitting just 28g/km CO2 which puts it in the lowest BiK company-car tax bracket, at 13 per cent. It has an EV range of up to 39 miles (twice the capacity of its predecessor) and a maximum WLTP fuel consumption of 235.4mpg, although Toyota itself claims that 83mpg is more likely with a depleted battery. While with a heavy right foot or in dead of winter 25 miles is more likely, it will still get you farther on electricity alone than its main rivals and cost you less to run. Electric and petrol combined the total range is 540 miles, not bad for a 43 litre fuel tank.
The 97bhp 1.8-litre petrol engine is supported by two electric motors, one producing 30bhp and the other 71bhp but because of the way systems work together and are integrated with the CVT transmission, the total output is limited to 120bhp. That equates to a 0-62mph time of 11.1 seconds and a top speed of 101mph (84mph in electric mode), whereas key rivals manage it in sub eight. On the upside it takes just two hours to charge its 8.8kWh battery (using a 3.3kW Type 2 connecter) or a third longer using a normal three-pin household socket.
There are four modes. Hybrid (HV) mode, which manages the shift between petrol and electric power, or combines both; EV mode, which prioritises electric; EV City, which does the same but reduces how much power the motors will deliver; and Battery charge mode which uses the petrol engine to drive the car forward and charge the battery on the move.
The brakes are a little grabby, but the suspension is soft and compliant so you can expect a comfortable, smooth ride, even if it is a little choppy through the bends. It's not quite as sharp as the regular Prius with a weight penalty from the batteries but overall it is quite good to drive, especially in town, and while in electric mode it is very quiet. Owing to its use of that CVT automatic gearbox though, which tends to keep engine revs constant, there can be quite a lot of noise from the engine (and the fuel saving tyres for that matter).
Outside, it's a bigger than the standard Prius with a 25mm longer nose and an 80mm larger rear overhang. A bespoke LED headlamp cluster and a different grille design lends it a more aggressive look up front, while out back the rear lights spread horizontally rather than vertically.
Inside, it's almost identical to the Mk4 Prius. However, while the trim – available in gloss black or white, partnered with matching leather, looks more upmarket than its older sibling – some of the materials are below par for the price tag. Instead of the traditional instruments there is a pair of 4.2 inch colour screens that sit atop the dash – the right-hand one covers basics such as speed and fuel level, while the left shows secondary data, including a highly detailed fuel economy analysis.
Although more spacious than the outgoing model with plenty of storage options up front, other hybrids offer more practicality – the boot of the Prius Plug-in is smaller than the regular Prius's because of the bigger drive battery necessitating the need to raise the floor by 160mm, and the middle seat's been removed on account of the complicated electronics. Rear headroom is still tight for adults.
There are two trim levels (Business Edition Plus and Excel) and a decent amount of equipment as standard, including Toyota's Safety Sense with a raft of new active safety systems, keyless operation, seven inch touchscreen with sat-nav, DAB, Bluetooth and wireless phone charging. If you don't buy the most expensive version, you can opt for a solar panel roof (for £1500) that gets extra energy into the car's battery which is pretty cool. Over a typical day's use it apparently adds three miles to the car's electric range, while if parked up in an averagely sunny place for a week, it will charge from flat to about 90 per cent full.
Key Specs
P11D price:

From £31,585

BIK rate (2018/19):

13%

CO2:

28g/km*

Economy:

235.4mpg*

Engine and transmission:

1.8 petrol and CVT automatic transmission

Power (total):

120bhp

Torque:

105lb-ft

Top speed:

101mph

0-62mph:

11.1 seconds

Driving range:

Up to 39 miles*

Charge time:

2 hours (using a 3.3kW Type 2 connector) or 3 hours (using a conventional 13A socket)

Insurance group:

21 (Business Edition Plus)

*WLTP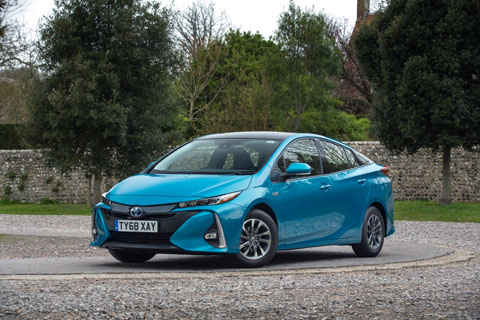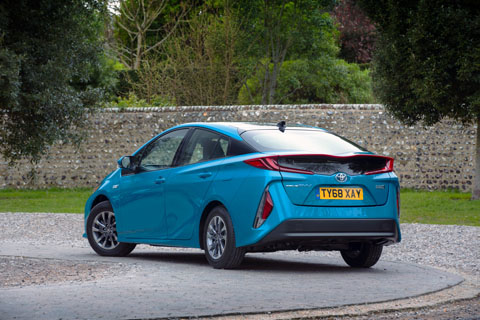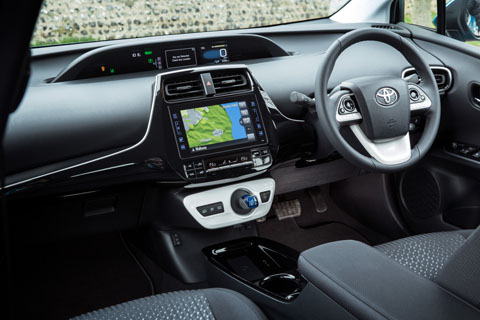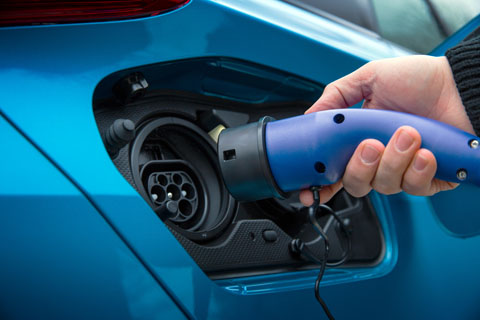 Hyundai IONIQ Plug-in
Arriving in 2017, the Hyundai IONIQ Plug-in has the same BiK rate as its Prius rival, registering 13 per cent for 2018/19, rising to 16 per cent for 2019/20 before falling to 12 per cent for 2020/21. It's not quite as economical, with official figures quoting a combined 256.8 mpg based on the old NEDC economy and emissions tests which are not as accurate as WLTP approved figures, but it has a slightly lower P11D value, which means you'll pay less company car tax.
It features a 44.5kW electric motor, together with a 104bhp 1.6-litre GDI petrol engine, which gives a combined output of 139bhp and will get you to 62mph from standstill in around 10.6 seconds. While this makes it quicker than the Prius Plug-in, it does have a smaller range of 32 miles, but impressively it will cover more than 660 miles per tank – if you charge the battery every night and have a very light right foot or keep the car in EV mode, that is.
Charging the Hyundai IONIQ Plug-in using a conventional three-pin socket will take up to six hours to replenish the 8.9kWh battery, but a 7kWh wallbox does the job in two hours 15 minutes.
There's a choice of driving modes. EV, that does what it says on the tin, but is not nearly as effective as in the Prius, because with only 61bhp the electric motor has a lot of work to do; HEV does a good job of juggling the two, using electric power when it can (mostly when pulling away and coasting); while in Sport it modifies gear shifting, acceleration, steering feel and the digital instruments for a supposedly 'more rewarding driving experience'. It feels a little pointless however, making it noisier and adding unwanted weight to the steering, which is otherwise too light ironically.
In fact, on the road, the steering is quite devoid of feel although accurate enough and ride comfort is generally good, but it can be a bit hard over our battered roads, making the Prius the more comfortable and settled of the two. The front-wheel drive IONIQ has clearly been set up to handle busy urban driving and motorway cruising, rather than faster B-roads.
Inside there is room for five adults and the boot capacity matches that of the IONIQ Electric, with 341 litres of luggage space (although the charging cables take up a large chunk of it) – that gives this car the advantage of the Prius which has just 191 litres and only room for four.
Design-wise, the shape is dictated by aerodynamics – as such the IONIQ has an excellent drag coefficient of just 0.24, unfortunately it comes at a cost of sacrificing headroom for rear passengers. Unlike the all-electric IONIQ, the Plug-in has a radiator grille at the front, which helps to give it a more distinctive face.
Inside, things are just as functional with clear switches and instruments, and the dash bears a strong resemblance to the Korean company's other models such as the i30 and Tuscon. Some of the cabin's materials could be of better quality but levels of standard equipment are very good and that's largely because there are only two trims (Premium and Premium SE). This means you get heated leather seats, dual-zone climate control, automatic LED headlights, cruise control, tyre-pressure monitoring system, lane-departure warning system with lane-keeping assistance, autonomous emergency braking, rear parking sensors and a reversing camera all as standard. The infotainment system also features Apple CarPlay and Android Auto – unlike the Prius.
If you want more passenger space and a much larger cargo area take a look at its more conventional looking sister car, the Kia Niro.
Key Specs
P11D price:

From £28,340

BIK rate (2018/19):

13%

CO2:

26g/km*

Economy:

256.8mpg*

Engine and transmission:

1.6 petrol and automatic DCT transmission

Power (total):

139bhp

Torque:

195lb-ft

Top speed:

111mph

0-62mph:

10.6 seconds

Driving range:

32 miles*

Charge time:

2 hours 15 minutes (using a 7kW wallbox) or 6 hours (using a conventional 13A socket)

Insurance group:

10E (Premium)

*NEDC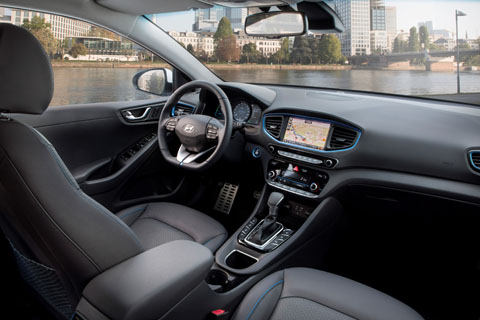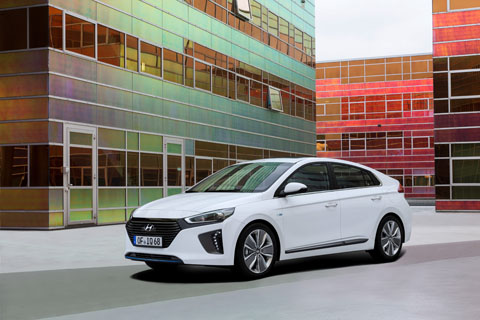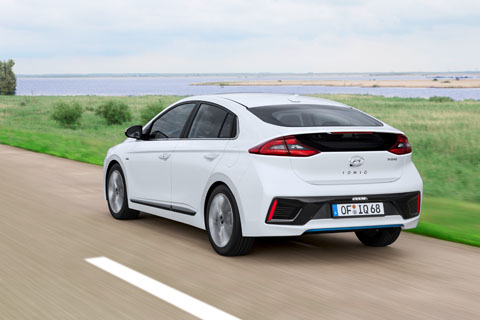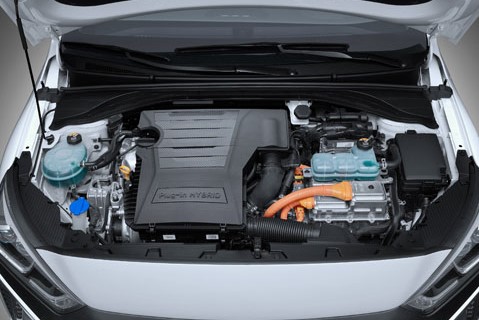 BMW 530e iPerformance
Launched in 2017, the 530e iPerformance is the first plug-in hybrid 5 Series. With a P11D value of £46,645 for the SE (you can also buy an M Sport variant), the BMW 530e plug-in hybrid is at the pricier end of the scale in our line-up, however the 5 Series is a very capable executive car and a top player in its field. It may be over £18k more than the Hyundai Iconiq, the cheapest contender here, and in a higher insurance group, but if you can afford to pay more it's worth considering.
The combination of an electric and turbocharged petrol drivetrain mated to an automatic transmission (with gearshift paddles) in the 530e really does give you the best of both worlds and also the performance and dynamics one expects from a 5 Series. A 9.2kWh battery pack and a small 95bhp electric motor provides a 29 mile range – perfect for those shorter journeys, while a 2.0-litre four-cylinder engine will keep you cossetted and entertained in equal measure on longer drives.
It's got a BiK rate of 13 per cent for 2018/19 and 16 per cent for 2019/20 but is the highest of our plug-ins for 2020/21 at 14 per cent. Like every BMW, it has the brand's EfficientDynamics technologies to help make the car more economical, although that said it doesn't perform as well as the Toyota or Hyundai, emitting 49g/km of CO2 and returning between 117 and 128mpg but you are looking at a car that covers the zero to 62mph sprint in just 6.2 seconds. And with a total of 248bhp and 310lb ft of torque it's the fastest of our top five.
There are the typical BMW drive settings – Sport, Comfort and Eco Pro, plus three separate ones for the drivetrain. Auto e-Drive is default and uses the motor and petrol engine together to achieve the best balance between efficiency and performance; Max eDrive prioritises battery propulsion up to 87mph, and the SAVE Battery mode, allows the driver to set a target battery charge level between 30 and 100 per cent. This is good if the first part of your journey is on faster roads, and you can then fall back on pure electric for the last few city miles.
Type 2 and three-pin domestic socket cables are included and a full charge from a standard plug takes four and a half hours, or a little under three if you've invested in a BMW i Wallbox. As from 2018 BMW offered wireless charging, which consists of a base pad, which can be installed in a garage or outside on the ground, plus another pad attached to the underside of the car. When the car is parked above the charging station, a 100 per cent charge can be reached in 3.5 hours.
The eight-speed automatic gearbox is extremely smooth and with an additional 155kg to contain, BMW has beefed up the 530e's suspension, which has resulted in a slightly lumpier ride but it is still very comfortable and limo-like in refinement. Adaptive dampers are available, and in Comfort mode the 5 Series better absorbs rough and bumpy roads, while in Sport mode it is better with fast direction changes. Even without this option the 530e is one of the most involving executive saloons to drive on the market today, with hot hatch pace and a rear-wheel drive chassis. Steering is light and direct, too, and for a big car body control is impressive.
Looks-wise, except for a more eye-catching kidney grille (with blue and chrome slats), a smattering of eDrive designations inside and out, and a black-panel instrument cluster with hybrid-specific functions plus an electronic display of drivetrain information and battery range, it looks like a standard 5 Series, which isn't a bad thing. The only other difference is the boot is a little smaller (410 litres as opposed to 530) because of the batteries hiding beneath it, but it's still more than adequate. Otherwise, everything is what you would come to expect from BMW with a well-structured dashboard layout, plush feeling materials and intuitive infotainment system.
As it's a BMW, the standard equipment is not quite as generous as some of the manufacturers tested here, so expect to shell out some money if you want any sort of driving assistant aids or even Apple CarPlay. There are two trims available, and standard items of note are 18 inch wheels, tyre pressure monitoring, park distance control front and rear, cruise control with braking function, LED headlights, heated front seats, air conditioning, ambient lighting and BMW's Professional media system, complete with a 10.25 inch colour touchscreen, sat nav, voice control, Bluetooth, CD player, DAB radio and USB input. You also get ConnectedDrive which will automatically call emergency services if you have a crash, includes live traffic information and the ability to remote control some of the car's key functions.
If you want something smaller, lighter and sportier, there's always the BMW 330e, which is ten grand cheaper. Equally if you need something a lot bigger and even more expensive there's the 740e with a P11D price of £73,060.
Key Specs
P11D price:

From £46,645

BIK rate (2018/19):

13%

CO2:

49g/km*

Economy:

128mpg*

Engine and transmission:

2.0 turbocharged petrol and eight-speed automatic

Power (total):

248bhp

Torque:

310lb-ft

Top speed:

146mph

0-62mph:

6.2 seconds

Driving range:

29 miles*

Charge time:

3 hours (using a BMW I Wallbox) or 4 hours 30 minutes (using a conventional 13A socket)

Insurance group:

36

*WLTP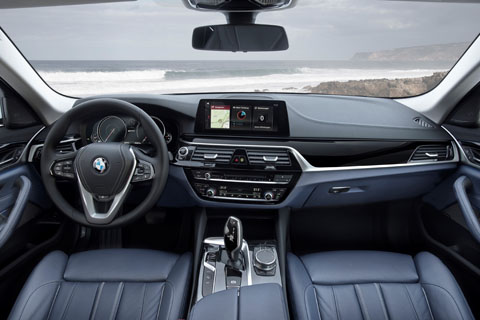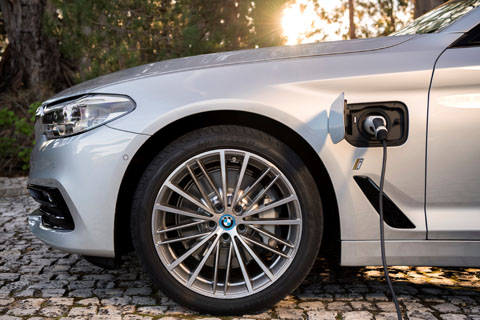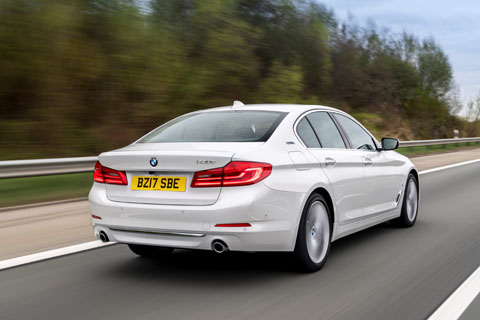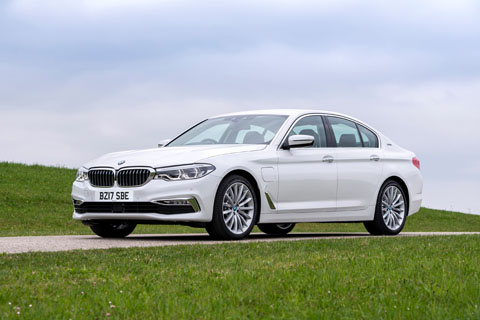 MINI Cooper S E Countryman ALL4
Launched in the UK in June 2017, the MINI Cooper S E Countryman ALL4 was the brand's first ever plug-in hybrid model, yet despite being relatively new to market it's one of the most fun PHEVs you can get your hands on. It's also competitively priced, almost evenly matched with the Prius, and Benefit-in-Kind (BiK) company-car tax is just 13 per cent.
The 3-cylinder petrol engine and synchronous electric motor give a total output of 224hp and 162lb-ft of torque propelling it from zero to 62mph time in 6.8 seconds, yet it delivers average fuel consumption of 134.5 mpg and CO2 emissions of 49g/km. The MINI Countryman Plug-in Hybrid has a range of up to 26 miles which should be enough to cover the daily commute of most drivers, and at a 3.6kW wallbox it can be fully charged in 2 hours 15 minutes while charging at a regular household socket adds another hour.
It effectively has a detuned version of the BMW i8's setup, but operating the other way round: a combustion engine (combined with a modified six-speed Steptronic transmission) driving the front wheels and an electric motor powering the rear wheels (via a two-stage single-speed transmission). Only one of the two power units is used when the car is moving, while the other one can be additionally enabled at any time to optimise traction, ride stability and agility. The signal required for this purpose comes from the Dynamic Stability Control (DSC) unit, which continuously analyses both the situation on the road and the commands of the driver.
The result is an intelligent all-wheel drive system that makes it a blast to drive and despite the extra weight of the battery pack, it feels almost as agile as the standard model. In fact, when it comes to handling, MINI is very fortunate in that it's owned by BMW so you can expect good body control, weighty and precise steering and a smooth ride. The only trade-off is a firmer feel compared to other hybrid cars.
You can find the same three operating modes as those in the 530e, except that in AUTO eDRIVE it prioritises battery power below 50mph, while in MAX eDRIVE it allows electrical driving speeds of up to 78mph. It also comes with the MINI driving settings as standard, so regardless of the operating mode the vehicle set-up can be adapted to a particularly sporty, comfortable or efficient driving style. And again, just like the 5 Series, save for a few model-specific design features such as the 'e' badge on the side scuttles and a yellow 'S' in the model inscription on the back, radiator grille and door sill finishers, it's pretty much the same as its regular siblings.
Again, the interior is just as well built and finished as the standard Countryman, with the same quality and quirky feel. The only difference is a yellow start/stop toggle switch and performance display in the instrument cluster replacing the traditional rev counter with a gauge that also shows battery power and energy going back into the battery. Mini's latest Navigation System XL comes as part of the car's optional £950 Media Pack and increases the size of the colour display from 6.5 inch to 8.8 inch. Thanks to the compact structure and arrangement of the eDrive components, you only lose 10 per cent of the boots volume (falling from 450 litres to 405), but the rear seats are set slightly higher so no longer slide forwards and back. Fortunately the Countryman's high roofline means there's still plenty of headroom.
There are three distinctive styles to choose from – Classic, Sport and Exclusive, all of which offer unique exterior design features, alloy wheels, seats, trims and materials. Standard kit is the same as the Cooper S, which is the highest specification in the range so it comes with 17-inch alloy wheels, an engine scoop on the bonnet, air-conditioning, sat nav, Bluetooth and DAB radio, Apple CarPlay and Rear Parking Distance Control (PDC). Be warned though, it can be easy to overdo it with the personalisation options and push that list price to over £40,000 which then means it costs more in road tax.
Key Specs
P11D price:

From £31,825

BIK rate (2018/19):

16%

CO2:

55g/km*

Economy:

134mpg*

Engine and transmission:

1.5-litre 3-cylinder petrol with six-speed automatic gearbox

Power (total):

224hp

Torque:

162lb-ft

Top speed:

123mph

0-62mph:

6.8 seconds

Driving range:

26 miles*

Charge time:

2 hours 15 minutes (from a 3.6kW charger) or 3 hours 15 minutes (from a household socket)

Insurance group:

26

*WLTP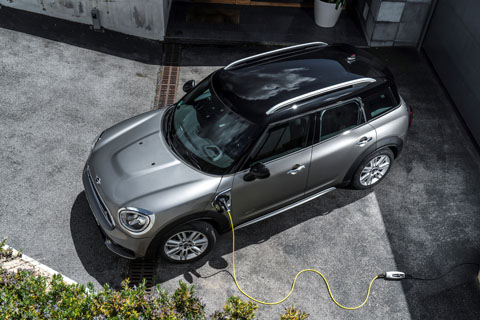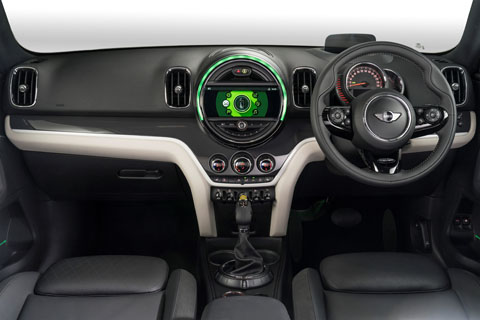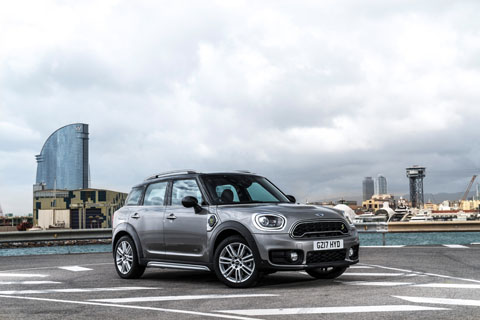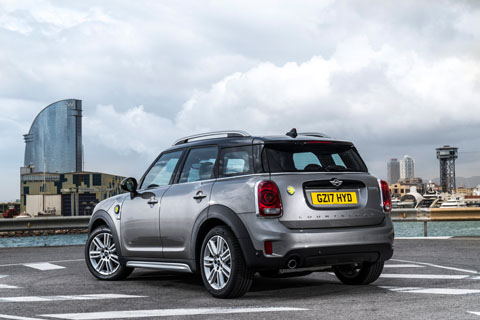 Volkswagen Golf GTE
VW say that this is the first plug-in hybrid with DNA of the Golf GTI and while it doesn't quite deliver the same rewarding handling (feeling underdamped and quite heavy), it is very enjoyable to drive and pretty quick – just a second slower to 62mph in fact compared to its hot hatch sibling.
It's also pretty efficient returning 188mpg, however just like the Hyundai IONIQ Plug-in the figure was achieved on the old NEDC lab test for cars, which is now outdated due to advances in technology and driving conditions. The test was also structured so that for two-thirds of its duration it was run in electric mode, then in hybrid mode for the remaining third. Even so it's undeniably cheap to run although the Prius has the edge for those seeking maximum cost-effective mileage.
The Golf GTE comes with a turbocharged 1.4 petrol engine (TSI) and a small electric motor, which work together to provide 204hp and 258lb-ft of torque topping out at 138mph, making it the third quickest car in this line-up. It has a respectable 31 miles of driving range and costs pretty much the same as the MINI making this a very tempting plug-in indeed.
There are five operating modes. The car automatically starts up in E-mode and behaves exactly like the fully electric e-Golf driving at speeds of up to 81mph; in Hybrid Auto mode the car will seamlessly switch between the electric motor and petrol engine; Battery Charge mode uses the petrol engine to charge the battery, which is useful if the battery is running low and you want to drive using electric later in the journey; in GTE mode the power from the electric motor and petrol engines are combined for a burst of power that rivals the Golf GTI, plus it changes the characteristics of the accelerator pedal, gearbox and steering, to make it sportier. The tuning of the TSI is also more performance oriented. And lastly if you select Battery Hold mode you can drive using just the petrol engine to maintain battery charge for future use in the journey.
It's not quite as comfortable as the petrol or diesel Golf on bumpy roads but it's smooth on the motorway. Another downside to those batteries is that it doesn't feel as agile on the twisty B roads. That said it's a better driver's car than the Countryman Plug-In, gripping in the corners, without too much lean and the steering weighting up as it gathers speed. The six-speed DSG automatic gearbox is also more responsive and easy to use.
This Golf is recognised as a plug-in version thanks to the C-shaped LED daytime running lights, blue detailing outside and in, and a 12.3 inch high-resolution screen that replaces conventional analogue dials and allows you to reconfigure its settings. Everything feels just as solid as in the standard Golf and it's comfortable for four adults, with plenty of head and leg room. Unfortunately, the GTE's batteries and motors take up 100 litres of boot space, reducing it to 272 litres.
It lacks the lengthy standard spec list of the Hyundai, meaning those who prioritise value for money above all else will find the IONIQ Plug-in a more attractive option. Standard GTE features include 16 inch alloy wheels, GTI-style sports seats, sporty steering wheel, Composition Media radio system with a 6.5-inch display and adaptive cruise control. Unless you upgrade to a GTE Advance model (the only other trim available) or pay an extra £1325, sat nav doesn't come as standard.
If you want an estate it's worth considering the Volkswagen Passat GTE.
Key Specs
P11D price:

From £31,045

BIK rate (2018/19):

13%

CO2:

35g/km

Economy:

188mpg

Engine and transmission:

Turbocharged 1.4 petrol engine and six-speed dual clutch gearbox

Power (total):

204hp

Torque:

258lb-ft

Top speed:

138mph

0-62mph:

7.6 seconds

Driving range:

31 miles

Charge time:

Two hours 15 minutes (wallbox) 3 hours and 45 minutes (using a conventional 13A socket)

Insurance group:

25

*NEDC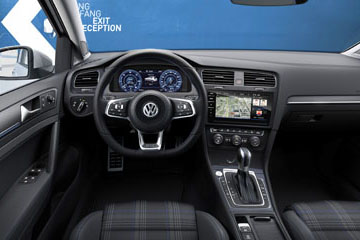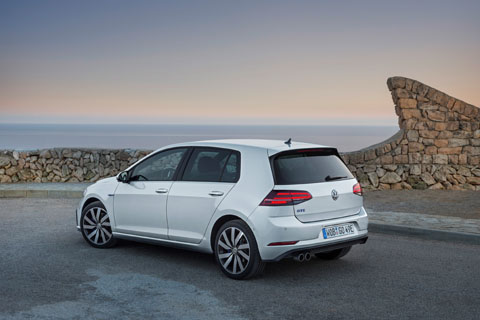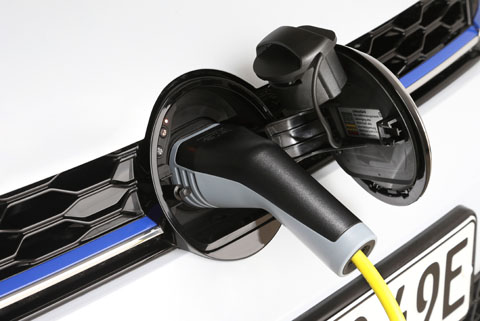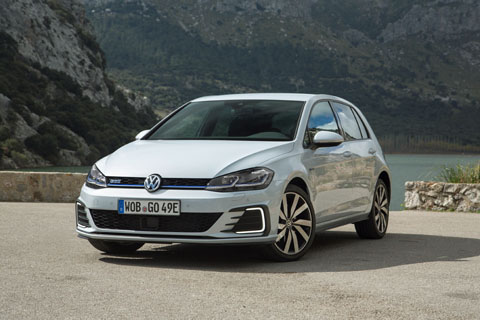 Comparison Data
| | Toyota Prius Plug-in | Hyundai IONIQ Plug-in | BMW 530e iPerformance | MINI Cooper S E Countryman ALL4 | Volkswagen Golf GTE |
| --- | --- | --- | --- | --- | --- |
| P11D price | From £31,585 | From £28,340 | From £46,645 | From £31,825 | From £31,045 |
| BIK rate (2018/19) | 13% | 13% | 13% | 16% | 13% |
| CO2 | 28g/km* | 26g/km* | 49g/km* | 55g/km* | 35g/km |
| Economy | 235.4mpg* | 256.8mpg* | 128mpg* | 134mpg* | 188mpg |
| Engine and transmission | 1.8 petrol and CVT automatic transmission | 1.6 petrol and automatic DCT transmission | 2.0 turbocharged petrol and eight-speed automatic | 1.5-litre 3-cylinder petrol with six-speed automatic gearbox | Turbocharged 1.4 petrol engine and six-speed dual clutch gearbox |
| Power (total) | 120bhp | 139bhp | 248bhp | 224hp | 204hp |
| Torque | 105lb-ft | 195lb-ft | 310lb-ft | 162lb-ft | 258lb-ft |
| Top speed | 101mph | 111mph | 146mph | 123mph | 138mph |
| 0-62mph | 11.1 seconds | 10.6 seconds | 6.2 seconds | 6.8 seconds | 7.6 seconds |
| Driving range | Up to 39 miles* | £32 miles* | 29 miles* | 26 miles* | 31 miles |
| Charge time | 2 hours (using a 3.3kW Type 2 connector) or 3 hours (using a conventional 13A socket) | 2 hours 15 minutes (using a 7kW wallbox) or 6 hours (using a conventional 13A socket) | 3 hours (using a BMW I Wallbox) or 4 hours 30 minutes (using a conventional 13A socket) | 2 hours 15 minutes (from a 3.6kW charger) or 3 hours 15 minutes (from a household socket) | Two hours 15 minutes (wallbox) 3 hours and 45 minutes (using a conventional 13A socket) |
| Insurance group | 21 (Business Edition Plus) | 10E (Premium) | 36 | 26 | 25 |
| * | *WLTP | *NEDC | *WLTP | *WLTP | *NEDC |
Verdict
If you had to name a PHEV off the top of your head the Prius would probably spring to mind, having been around since 1997, but now there are around 40 plug-in models on the market in the UK, with 20 more expected to arrive in showrooms later this year, and the one that's targeting the Toyota Plug-in more than anything else is the Hyundai IONIQ.
There's a £3245 price difference in the Korean Plug-in's favour, and while not quite as engaging to drive or efficient as a Prius it is very close, plus it offers extra practicality with a bigger boot and room for an additional passenger.
Our personal favourite is the BMW 530 iPerformance and it's certainly the go-to executive car for the enthusiast driver. It is without doubt the most classy and refined in our line-up but it is also the most expensive, so for those unable to stretch to the £46,645 asking price it's off limits.
The small SUV from MINI is a great alternative to all of the cars here, and is even fit to compete with the likes of the Toyota C-HR, Mitsubishi Outlander PHEV and Kia Niro Plug-in Hybrid, too. Okay, so it's not as big, but it has style and badge appeal, still offers a usable electric range (although it has the smallest of the five cars tested) and it's far more rewarding to drive.
In all honesty, all of the cars here boast impressive fuel economy figures on paper, but real-world results will depend on how far you drive and how often you can charge the batteries. Drive less than 20 miles a day and top up the batteries every night and you'll hardly use any fuel. In that respect the Prius, with the longest range, takes the crown here, but of great importance to business users is that CO2 emissions figure and all of the cars tested here fall into the 13 per cent bracket until the end of this year. The P11D price is also a factor and it's the IONIQ which undercuts everyone else.
Overall though, the Hyundai's shortfalls means the GTE is probably the most rounded plug-in hybrid in this segment, exuding the Golf's famed driveability, classy looks and solid build quality. Ultimately it's one of the best plug-in hybrids on the market and if you do lots of short trips and it's on your company car list, then we recommend you go for the VW. If you can get one, that is. The brand's official UK website currently says that 'due to unprecedented demand, leading to long delivery lead times, Golf GTE is currently closed to ordering'.