Guide to electric vehicle charging
Mar 13 2018 | by Louise Woodhams
Charging an electric car
From charging your vehicle at home or on the move, to the costs involved and different types of connector points, this comprehensive guide should tell you everything you need to know about powering up your electric vehicle or plug-in hybrid
You have two options when it comes to charging your vehicle's batteries: you can either charge at home using your own domestic mains electricity supply or make use of public charging points. There are three main types of EV charging – slow, fast and rapid, and these represent the power outputs, and therefore Aarging speeds. Note that power is measured in kilowatts (kW).
Types of EV charging
Trickle charging: You can charge your electric car from a standard 3-pin plug, which provides 3kW of power. This is slower than a home charge point and provides up to 15 miles of range per hour.
Slow charging: Home charging points have a power rating of 3.7kW or 7kW, which provides 15 or 30 miles of range per hour respectively.
Fast chargers: Public and workplace charging points typically range from 7kW or 22kW. Depending on the vehicle and the size of the battery, fast chargers can charge an EV in two to four hours.
Rapid chargers: Found at public charge point locations and can charge an EV to 80 per cent in less than 30 minutes. They supply high power direct (DC) to the vehicle battery or alternating current (AC) to the on-board charger. While DC is the preferred charging method to quickly recharge electric vehicles during long-distance trips, AC charging stations are the dominant charging types, as they are cost effective and do not require large upgrades to the grid.
Charging at home
Whether you do it via a standard UK 3-pin socket or you get a special home charging box – charging at home is one of the most convenient and cost effective ways to recharge an EV. In fact, 80 per cent of all charging happens at home, so it is probably worth having a charging point installed.
You can usually choose between having a standard Type 2 socket fitted to your home charge unit (utilising your vehicle's charging cable to connect) or a built-in tethered cable, which you then plug directly into your vehicle. These cables have to be fitted with the right connector for your particular vehicle, so if you change your vehicle in the future, it may no longer fit. Home charge units are wired directly to the central fuse board, usually on its own circuit so are completely safe.
Many plug-in vehicle manufacturers are affiliated with charge point suppliers, and provide a free home charge point as part of a new vehicle purchase. Government grants will cover up to 75 per cent (or a maximum of £500) of the cost of having the fast-charging point installed.
QUICK TIP: For customer guidance on the Electric Vehicle Homecharge Scheme (EVHS) go to GOV.UK.
Most home chargers are rated at 3.6kW or 7kW, the higher-powered wall-mounted units normally cost more but halve the time required to charge an EV. As a rough guide, a 3.6kW unit will charge 60 per cent faster than a standard 13 amp socket, whilst a 7kW home charge unit is around three times faster. Average overnight electricity rate is 13p per kWh so to fully charge a 30kW Nissan LEAF for example will cost about £3.64 and give you 115 miles of range.
QUICK TIP: To work out how much it will cost to charge your electric or plug-in hybrid vehicle and how long it will take check out Go Ultra Low's calculator.
It is worth bearing in mind home-based charging typically requires off-street parking to avoid cables running across public areas, however more residential streets are becoming part of the public charging network. The Government also offers a grant to local authorities to encourage the installation of residential on-street charging points, which covers up to 75 per cent of the cost.
QUICK TIP: For on-street residential charge point scheme guidance for local authorities go to GOV.UK.
Charging at work
An increasing number of companies are installing EV charging units. They are similar to home-based units, but power-ratings tend to be higher with more 7kW and 22kW units installed.
Some businesses install charging points that are free and open for everyone to use while others make their charge point part of the public network, which would mean signing-up for access to that particular provider.
The Government also offers the Workplace Charging Scheme (WCS) grant, a voucher-based scheme that provides support towards the up-front costs of the purchase and installation of electric vehicle charge-points, for eligible businesses, charities and public sector organisations. This is up to £500 for each charging socket, up to a limit of 20.
QUICK TIP: Find out how to apply to the (WCS) at GOV.UK.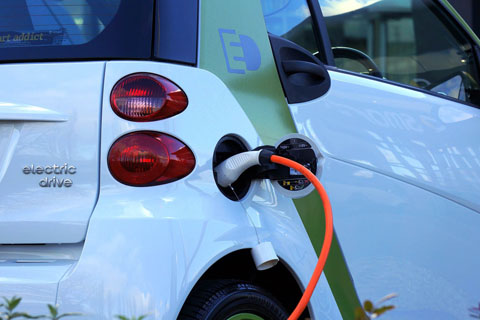 Charging in public
The UK has a large network of public charging points and the network is constantly expanding – some offer national coverage, others a specific region. Major UK-wide networks include Polar, Ecotricity, Pod Point and Charge Your Vehicle.
Regional networks normally cover well-defined areas such as the Midlands or the South West. Some of these are operated by or have links with national networks, which means it is often possible to use the points with a national account.
Payment and access methods vary across networks, but most require an account to be set up before use. Some networks require you to have an RFID vehicle or smartphone app to use their services. Rapid units with contactless PAYG vehicle readers are beginning to be installed.
Although many EV charge points are free to use, the majority of fast and rapid chargers require payment. Charging tariffs tend to comprise a flat connection fee, a cost per charging time (pence per hour) and/or a cost per energy consumed (pence per kWh), but typically cost £6.50 for a 30 min charge. Rapid chargers can be found at 96 per cent of motorway service stations and are being added to other key locations all the time.
QUICK TIP: Use Zap-Map to find the closest place to charge your electric or hybrid vehicle in the UK.
Connector types
UK three-pin: A standard UK plug, which can be used to charge some EVs but can lack safety and speed.
Type 1: A 5-pin plug that also features a clip. Used for slow and fast charging and typically preferred by Asian vehicle manufacturers (Nissan, Honda, Mitsubishi, etc.)
Type 2: A 7-pin plug with one flat edge. Also used for slow and fast charging (Tesla's rapid charger uses a Type 2 connector) and typically preferred by European vehicle manufacturers (BMW, Tesla, Volvo, etc). A Type 2 plug is now the industry standard for vehicles' charging sockets. Adaptors are available for EVs with older Type 1 plugs.
CHAdeMO (an abbreviation of CHArge de Move): A round 4-pin plug. Only used for rapid charging points and typically compatible with Asian vehicle manufacturers (Nissan, Mitsubishi, etc.).
Combined Charging System (CCS): Standardised by the EU, only used for rapid charging points and typically compatible with European vehicle manufacturers ((BMW, Volkswagen, etc.) and Hyundai models.
Please note, Tesla uses its own network Supercharger points, and although its vehicles can recharge at other charge points (if the driver has an adapter), other manufacturers' vehicles cannot yet recharge at Tesla Superchargers. It has also added a BG/T charging port to its model X vehicles, a system used by China.
Next Article