Over the past four years I've been writing for a very well-known Land Rover magazine, so I'm pretty familiar with Solihull's product line-up. However, up until now I had only ever driven petrol or diesel variants, so when Discover EV was offered a five day loan of Range Rover's new plug-in hybrid model, well, I was eager to get my hands on it! Would it deliver the same levels of performance and refinement from the V6 and V8-engined models? There was only one way to find out.
The short answer to my question is yes, but there are some shortfalls to do with the hybrid system. Range Rovers tend to have a soft brake pedal anyway, but the occasional regenerative effect adds an element of inconsistency. The accelerator pedal's response also varies depending on which combination of power the car is using. It's supposed to seamlessly combine the turbocharged engine and electric motor, and it does – for the most part, but every now and again the accelerator pedal's response varies depending on which combination of power the car is using. Most annoying of all is when it seems to pause and then surge as it relies on the Ingenium engine alone.
That said the combined performance from the two-litre four-cylinder petrol engine and 85 kilowatt electric motor is impressive with a total of 404hp and 472lb-ft of torque. That means it can hit zero to 60mph in 6.3 seconds, which believes me feels quick in a 4x4 that weighs almost 2.5 tonnes. Compared to its bigger engine petrol siblings, there's a lack of mid-range shove in higher gears and the automatic eight-speed transmission can be a bit unresponsive in selecting the optimum gear ratio during kickdown.
The air ride suspension does a great job of absorbing any road imperfections, like every other new Range Rover it's effortlessly comfortable and cosseting. Personally I'm a big fan of the raised seating position and large glasshouse, it gives you a great view of the road ahead and it doesn't take long to get accustomed to its size, even on Kent's tiny country lanes. When you're cruising on the motorway or travelling in slow-moving traffic, it's one of the most refined vehicles of its kind.
On faster, flowing back roads however, it's a different story. It's certainly not as sporty as the Porsche Cayenne E-Hybrid, even when putting it in Dynamic mode to firm things up a little. The steering is vague, the brakes are spongey and there's a fair amount of body roll. All to be expected for a massive SUV and it did at least put up with being flung into tight bends, although the whiff of burning smell from the brakes may have been a little dirty protest following a particularly hard workout. To be fair to Land Rover's engineers, they have worked hard to try and achieve ideal weight distribution. As such, the engine is under the bonnet, as you would expect, the electric motor is housed on the transmission, at the centre of the vehicle, and the 13.1kWh lithium-ion battery is mounted at the rear beneath the boot floor.
Managing the four-wheel drive system is Land Rover's Terrain Response 2 system, and the driver can select between Grass-Gravel-Snow, Mud-Ruts, rock crawl and Sand, meaning it can go where other hybrids might falter. It will even wade at up to 850mm in EV mode, but Land Rover recommends the engine be running to prevent water entering the exhaust system. I didn't take the P400e off-roading but I drove the first Range Rover Sport SVR on the rough stuff which was more than capable, and I should imagine the instant torque from the PHEV's electric motors being very helpful when negotiating steep inclines. It also has modes for on-road driving. These include Comfort, (the aforementioned) Dynamic and Eco, with each recalibrating the power delivery of the engine, electric motor and gear changes.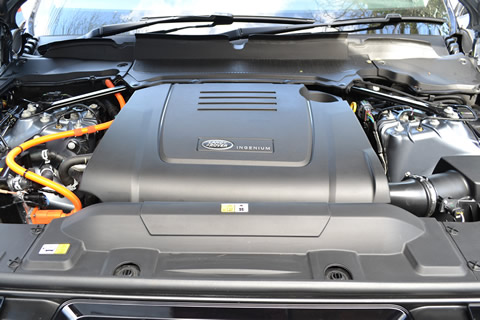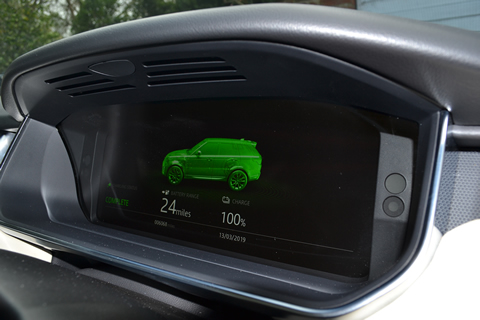 There are two modes, Parallel Hybrid, which is the default and juggles the two power sources, and EV, which means the P400e can be driven up to 31 miles emission free when fully charged and at speeds of up to 85mph. On longer journeys, there is a SAVE function. It basically maintains battery charge at the point of activation, only using the electric motor once it has replenished enough energy via regenerative braking or charging, however, I found it quite difficult to top up the batteries on the move so it hardly seemed worthwhile using it. I did make use of the Predictive Energy Optimisation function however, which uses the vehicle's Navigation system to maximise fuel efficiency.
The access point for the 7kW on-board recharging socket is behind the Land Rover badge on the right side of the grille, and a full charge can be achieved in approximately 7.5 hours (10 amp). For faster recharging, a multi-function cable is available for use at higher power 32 amp commercial charging locations and suitably equipped homes. This reduces the charge time to as little as two-and-three-quarter hours. Timed charging is also available via Land Rover's infotainment system, which allows you to charge when a cheaper energy tariff is available.
Verified under the old NEDC test, the Range Rover P400e emits 64g/km of CO2 on the combined cycle and 101mpg. On paper at least, the best I got over my time with the car (and charging it every night) was 34mpg (during mixed driving). But I was able to do the school drop off, shopping, recycling and other such menial tasks, on pure electric alone, and there lies the great thing about this car if it suits your lifestyle. On an overnight charge it will cost me £1.03 for the claimed 31 miles of range which works out at 3p per mile. The average petrol or diesel car costs around 12p per mile, which means driving the same distance, would cost around £3.72, so there are savings to be had.
When I went further afield to see a friend, which was almost a 60 mile round trip, I averaged 31 mpg once I was relying on petrol power alone, and for those that regularly travel long distances, even Land Rover will admit, an SD4 diesel would be more economical. Over the five days I had it I covered 130 miles and used a quarter of a tank of fuel. Equipped with an 86 litre fuel tank, that means I averaged 27mpg, which makes Land Rover's figure wildly inaccurate – more economical than the 5.0 V8 supercharged model, I suppose.
In the P400e's favour it does offer a big tax incentive for company car drivers, with significantly reduced Benefit in Kind tax: the diesel is in the very highest bracket whereas the hybrid achieves a 16 per cent rating, plus a £15 first-year VED bill rather than £1200 and exemption from London's Congestion Charge. It's worth noting the 2019 model year cars have been tested under the stricter WLTP efficiency rules, pushing CO2 emissions up to 73g/km but keeping the same BIK rate.
The other thing I found with it (and the Jaguar I-PACE), is that despite leaving it overnight to charge and the car claiming it reached the full battery charge, it was displaying a predicted EV range of 25 miles. Was it because our standard domestic plug socket reached the maximum limit of its charge, or because it's not the ideal temperature? Land Rover answered my question:
"It is the more the latter of the two. It was a fundamental requirement set in place at the start of development to get the range predictions as accurate as possible.
Our system factors in previous driving styles, topography, real-time traffic data and climate control settings together with other variables to calculate the most energy-efficient route on the sat nav and also give an accurate estimation of vehicle range. The range display is also personalised to each individual driver using our personalisation feature, and can show the driver how much energy systems such as climate control or heated seats are using – and how much range could be gained by switching them off within the range impact screen.
Using systems such as vehicle preconditioning while the vehicle is plugged in will greatly help the overall range while in the milder temperatures in the UK by using the power from the charger to prepare the batteries in addition to the cabin to optimum temperature, instead of draining from the battery.
Customers quickly learn how to use the range of an electric vehicle, and manage charging, when they know that the range displayed is accurate and that they can trust it, regardless of ambient temperature and driving style."
So, there you go.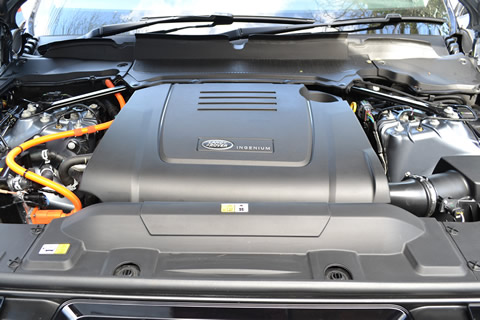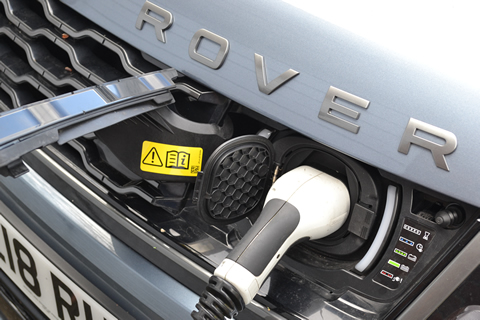 As part of the model year change in 2018 when the Range Rover PHEV was launched, it received some mild exterior revisions. The front grille has been tweaked to bring it into line with the new Velar, the bumper's been restyled and there are various LED headlight options. The only real giveaway that it's a plug-in is the small P400e badge on the tailgate. The Range Rover is a handsomely classic looking vehicle, its lower slung sibling even more so.
Inside the infotainment system that debuted in Velar does a good job of bringing the cabin up to date, with most of the conventional buttons now replaced them with a dual-touchscreen setup. With only a couple of dials used for additional controls, together with a few material quality improvements and bigger, more comfortable seats, the interior makeover is what you would expect from a car that's the pinnacle of luxury SUVs.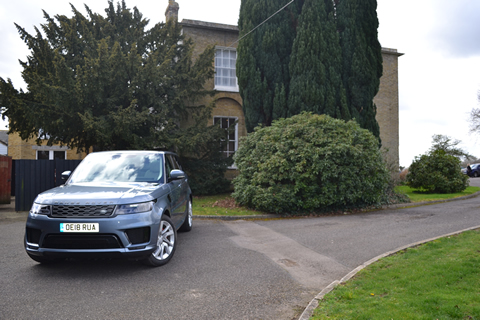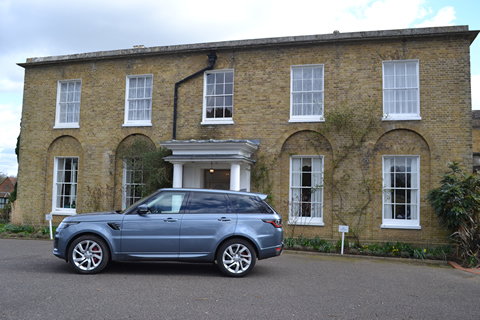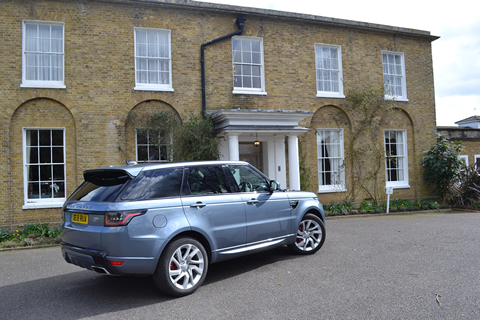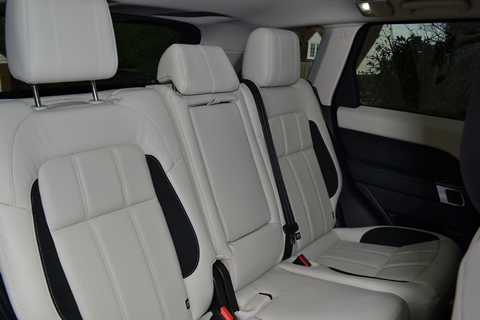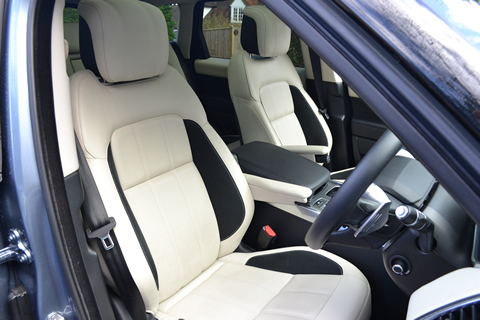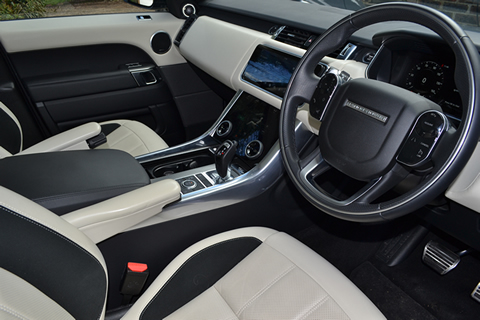 Inside the front and rear seats have been redesigned and while it is more expensive than most of its direct rivals from Volvo, Audi and Porsche, even the most basic of the four trim levels (HSE) available is well equipped. Our HSE R-Dynamic test car is one from the top (priced at £73,800) and the 16-way heated front seats were very cosy indeed. There's an abundance of leather, aluminium trim and soft carpets, which together with the ambient lighting, makes it a very pleasurable place to spend time, helped further no doubt by the fact it's Range Rover's quietest model yet. And in case you were wondering it uses 26kg of recycled plastics and 40kg of natural materials, so it's sustainable as well as plush.
There is one big gripe however – JLR's Touch Pro Duo advanced infotainment system. While it may be an improvement over anything that came before it in terms of looks and operation, it can be slow to respond, not the most intuitive and lacks haptic feedback. It features two high-definition 10-inch touchscreens separating media and navigation from vehicle settings, while there's an Interactive Driver Display which supposedly gives you real-time data. There's still no Apple CarPlay or Android Auto, which is annoying.
While it's roomy enough for most families, it has a smaller boot than the regular Sport (losing 79 litres of space) due to a raised floor to accommodate the batteries beneath, and it can't be had with a third row of fold-out seats, although Land Rover reports that very few Sport owners bother with the 'five-plus-two seat' option anyway. It also falls behind its petrol and diesel brethren's on maximum towing weight (2.5 tonnes).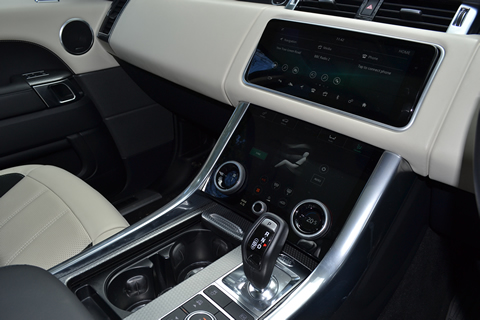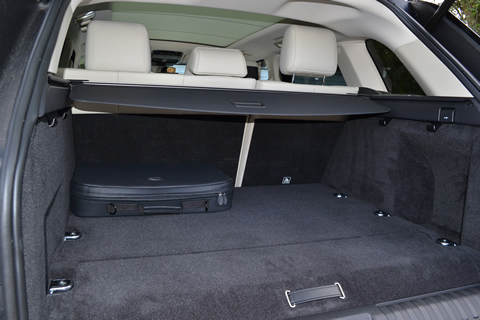 To sum up then, despite the fact that there's no six- or eight-cylinder unit it still feels like a proper Range Rover, retaining its most of its best qualities while giving you a big enough range to cope with day-to-day errands. If you drive mainly short distances and have access to charging points at home and/or work the P400e makes sense with a real world driving range of around 25.
While the grandiose Range Rover is a car that you'd never associate with being green, it has answered demand for a tax-efficient non-diesel Range Rover Sport with the Government clamping down on oil burners. The P400e exudes the class and quality one expects from a Rangie, as well as on and off-road ability without guzzling all the fuel (if you're not a high mileage driver). Add a good level of standard equipment, spacious interior and improving reliability and this is a car that's certainly worth a look if you want a relatively efficient premium hybrid SUV.
THANK YOU
Discover EV would like to thank Hadlow Manor in Kent for letting us photograph the Range Rover P400e PHEV outside of their hotel. For more details go to hadlowmanor.co.uk
2018 Range Rove P400e
Price: From £72,185
Top speed: 137mph
0-60mph: 6.4 seconds
Power: 404bhp
Torque: 472lb-ft
Driving range (NEDC): 31 miles
Emissions (NEDC): 64g/km
Fuel consumption (NEDC): 101mpg
Home charging: 7.5 hours (10 Amp domestic cable) or 2.75 hours (32 Amp)
Insurance group: 49E