PSA Peugeot Citroën and Mitsubishi have been working together on various automotive projects since the late nineties, so when thoughts turned to electric vehicles it was almost inevitable they were going to collaborate. This is why the Peugeot iOn, just like the Citroën C-Zero, is a re-badged Mitsubishi i-MiEV.
But, it's not just a case of badge-engineering. Peugeot had some design and usage experience from the 6400 electric 106s it built and sold (mainly to the French Administration) in the late 1990s, and from the ION concept car – a four-seat electric vehicle intended for use in urban areas. Going further back than that, its first offering was a three-wheeled VLV electric microcar in 1941.
The French car maker offers its fully electric car on a leasing scheme, costing £415 per month over four years or 40,000 miles, including full warranty cover on its battery and electric powertrain for the period of the lease, servicing and a subscription to Peugeot's Connect services. We think it's a more attractive option than buying it outright, and saves any worries about battery degradation, but that figure does exclude VAT.
With the battery under the floor contributing to the car's low centre of gravity, it feels very stable, and with the electric motor sitting directly over the rear-wheel driven wheels, traction in the wet is impressive. It's clearly been optimised for city driving (and it's not bad on country roads either) –there's not too much body roll in the corners, the ride is good with soft springs soaking up road imperfections, and it has an incredibly tight turning circle. And being a Mitsubishi underneath the steering is a lot better than Peugeot's typical offering.
It also feels positively nippy with 133lb-ft of torque available instantaneously and it's great for pulling away from traffic lights, but zero to 62mph takes almost 16 seconds so it's not the best choice of car if you do a lot of motorway miles. Fortunately, the i-MiEV's Eco setting has been ditched which restricted engine power to 23hp which is far too limiting, even in the congested streets of London.
The regenerative braking system has also been overhauled – gone is the harsh two-position system, which in maximum recovery mode was almost dangerous such was the braking effect. Instead it is smooth and efficient. Project leader on the iOn, Philippe Barriac, revealed that their sensor tweaks improved the car's range by 30 per cent.
Peugeot also claim its improved aerodynamics give the iOn an advantage over the i-MiEV's range, as well as allowing the battery to run to 5 per cent of capacity before requiring recharging instead of Mitsubishi's preferred 10 per cent.
Even so, a theoretical range of 83 miles by today's standards are poor. Peugeot claim, in practical terms this is sufficient to cover the majority of a motorists' daily trips, 90 per cent of which are in fact less than 37 miles. So, on that basis, I guess it is okay then! It also says running costs won't be any more than £2 per 62 miles, so that helps soften the blow for those with range anxiety.
You can fully recharge the iOn in six hours from a 220V domestic plug socket, using the five metre cable that comes with the car. Special 380V recharging stations for electric cars will replace half the battery's capacity in just 15 minutes.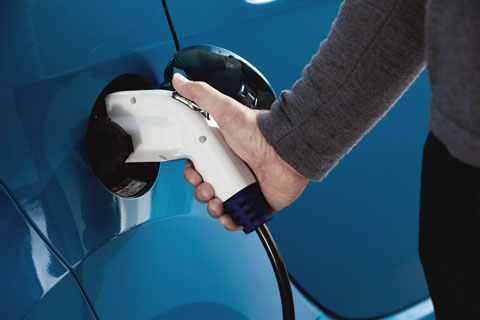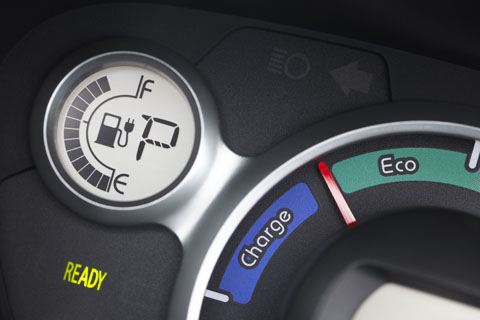 It shares its looks with Mitsubishi's i-MiEV albeit with a slightly prettier face and a new pearlescent white/ chrome lion (to indicate it's a zero emission vehicle) on the bonnet. Sadly, there's no getting away from the fact that its bug-eyed, narrow, tall body shape isn't the best looking, even if it is more aerodynamic and gives the interior a spacious feel.
There's only one model available and two interior trim levels, but it is well equipped. Some of the standard kit includes a Bluetooth compatible audio system with USB connection, heated driver's seat and door mirrors, all-round electric windows, folding electric door mirrors, auto headlights, privacy glass and 15 inch alloy wheels. There is plenty of equipment to keep the occupants safe too, including front, side and curtain airbags and Emergency Brake Assist, which is good news as Euro NCAP only awarded it four stars due to poor pedestrian protection.
It's more stylish inside than the i-MiEV and it is fitted to a higher standard but for the price tag it falls short in terms of quality – the plastics are hard, scratchy and cheap.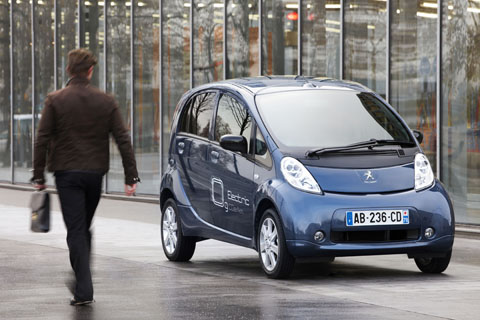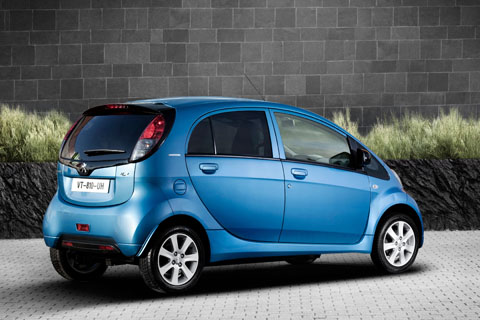 It's more practical than a Smart ForTwo but won't take lots of luggage – the 170 litre boot is however adequate for shopping, the school run and a long weekend.
It will comfortably take four tall adults if required, the rear seats can recline and they also split 50:50 and fold flat for more space. There's lots of headroom and glass so it doesn't feel cramped either, and means that visibility is good for the driver.
There is more sound insulation around the electric engine compared to the i-MiEV so it's a lot quieter under hard acceleration, helping it to feel more refined.
At the time of launch it seemed like an acceptable stop gap until Peugeot created its own small electric city car, but that never happened. It suffered from being too quick to market and having a hefty price tag. Although Peugeot has dropped the price since launch EV technology has moved on. As a second-hand buy though, it suddenly becomes quite appealing, as one of the cheaper electric cars money can buy. For city dwellers and workers that don't drive many miles each day and only require a small car it is an attractive proposition. Of course, you could always wait for Peugeot's electric version of the next generation 208, which is due to launch later this year.
2011 Peugeot iOn
Price: 20,495 (before plug-in grant of £3500)
Top speed: 81mph
0-30mph: 5.9 seconds
0-62mph: 15.9 seconds
Power: 65hp
Torque: 133lb-ft
Driving range (WLTP): 83 miles
Home charging (single-phase 220V): Six hours
Rapid charging (three-phase 380V, 0-80 per cent): 30 minutes
Insurance group: 28