When the LEAF launched in 2011 it was an EV pioneer and while most car makers are still a few years from launching their first dedicated electric car, Nissan's compact five-door electrified hatchback is now on its second generation. Having accounted for almost half of all electric cars sold in the UK in 2017, a lot was resting on its successor.
Thankfully its loyal customers will be pleased to hear it's a much better all-rounder. It may be built on the same platform, but it's quicker, further reaching between charges, more sophisticated to drive and smarter – both in looks and technology. Even better, prices are lower, model for model.
The motor is the same but it has a new, more powerful invertor – that's the part which supplies and controls the electricity. As such it has 147hp and 236lb-ft of torque, an increase of 37 per cent and 26 per cent respectively compared to its predecessor, dropping the 0-62 time from 11.5 seconds to just below eight. That means it will outsprint a Volkswagen e-Golf by 1.7 seconds, even though its top speed is capped a few miles per hour lower at 89.
It uses the same Intelligent Chassis Control technology as in the Qashqai, and as a result it better absorbs undulating surfaces and reduces pitch. Apparently the work on ride comfort was done in the UK, and it shows – the suspension setup is well damped even on our rough roads. It's far better than a ZOE or BMW i3. It's also more composed through the bends, the steering ratio is faster and the car's centre of gravity is 5mm lower so it's precise and predictable. The weight of those batteries also helps to overcome the low-grip economy tyres.
Current owners of electric cars will know the joys of one-pedal driving, using regenerative braking to slow the car down, but Nissan has taken the concept one step further with its e-Pedal, which can bring the vehicle to a complete halt. The car maker estimates it can reduce the use of the brakes by 90 per cent.
The shifter still includes D and B modes as with the previous generation, but the new system seamlessly combines regenerative braking and the conventional friction brakes to target an acceleration rate of 0.2G, and can hold the car while stopped on grades of up to 30 per cent. It's particularly useful in stop-start traffic but not so great when manoeuvring the car under 3mph for parking.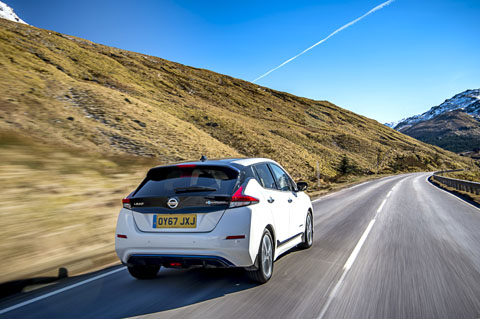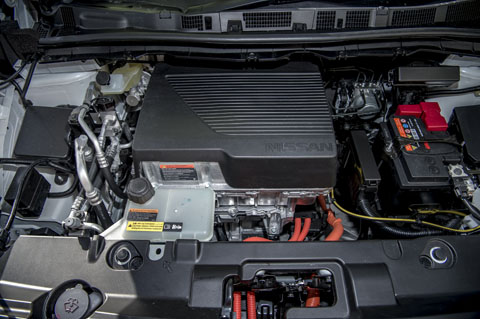 Nissan claim that you can manage 168 miles on a full charge, which is impressive but still 18 miles less than the Renault ZOE, and it's over £6.5k more (although there's no separate battery lease). Still, how often do you drive more than 150 miles a day? And if you do, Nissan will lend you a combustion car for 14 days in the first three years.
The 40kwh battery pack (which is the same size as the old car's despite a 10kwh increase) can be recharged with a 3-pin domestic socket – although it will taking you a tiresome 21 hours, in comparison a 7-pin plug will reduce that time to seven and a half hours via a 7kW wall box which all UK customers get as part of standard equipment. From a 50kW CHAdeMO charger you can charge to 80 per cent in around 60 minutes, which equates to three times the cost of a full overnight charge at home (based on 8p per kWh on an Economy 7 tariff), but you're paying for the speed and convenience.
There's good news if you're a company car driver, because the LEAF qualifies for the lowest band of benefit-in-kind tax.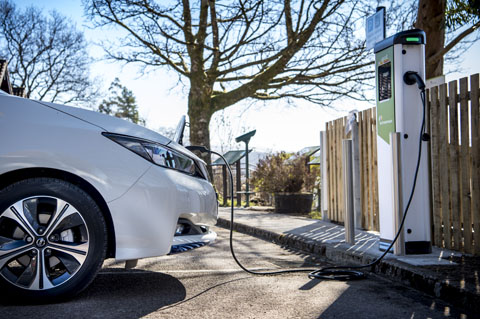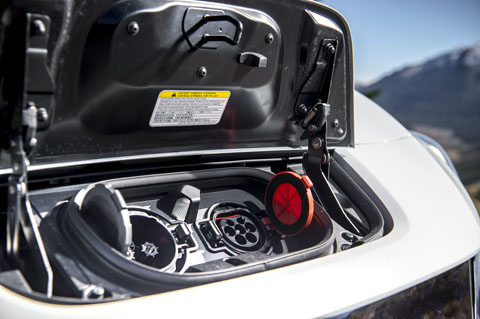 The new car definitely looks more conventional yet different enough for those who want to highlight their green credentials. No longer dumpy nor frog-like, Nissan's signature V-shaped grille, floating roof line and boomerang-shaped daytime running lights and brake lights, all combine to help it look more dynamic and contemporary.
Things have improved on the inside, too, with higher quality materials, that said it's not as classy as the e-Golf. Despite the improvement in features and design however, the infotainment system still needs updating. Graphics are drab, the 7 inch touchscreen smaller than its rivals and it's fairly unresponsive. It does have some redeeming features however, such as the optional 360-degree camera that gives you a birds-eye view when parking.
You have three levels of trim to choose from: Acenta, N-Connecta and Tekna. The mid-range N-Connecta gives you as much kit as you're likely to need, but standard equipment on the cheapest version includes an audio system with Bluetooth and navigation which supports Apple CarPlay and Android Auto, 16" alloy wheels and LED lights to name but a few features, plus a load of preventative safety tech (it scored a maximum of five stars by Euro NCAP, too).
A highlight of the driver assistance technologies is Nissan's ProPILOT Assist, which basically keeps the car centred between the lane markings (even on curves), covers blind spots, maintains speed – slowing down or speeding up depending on traffic, and brings you to a complete halt. It is not by any means a hands-free system, nor is it intended to be autonomous in any way and conditions have to be perfect, but it is useful in easing fatigue and stress in heavy traffic and on the open road.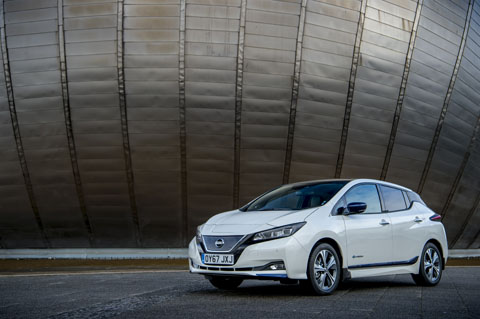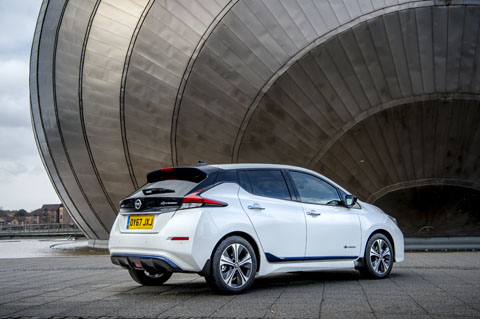 The driving position in the new LEAF is still very high (due in part to battery-packaging constraints), which is good for visibility but the steering column doesn't adjust for reach, so you can't bring it closer to you making it rather challenging to get comfortable.
Still, storage is good – there are two decent-sized door bins, a small cubby in front of the gear selector and a bigger one beneath the armrest between the front seats, together with a pair of useful cupholders and a sizeable glovebox.
There's more rear legroom than in any direct peer, but headroom is a bit tight for anyone over six-feet tall. It's more than viable for small families. It also beats its closest rivals when it comes to luggage space with 435 litres, although the enormous lip at the boot entrance and a step in the floor of the extended load bay when you fold down the rear seats is a bit annoying. There are handy nets at each side of the boot for tucking away charging cables. For those wanting the range-topping Tekna model, which gets a Bose sound system, bear in mind the subwoofer uses some of the boot space.
The LEAF seems quieter than ever, too, in fact Nissan claims it's 30 per cent more hushed than similarly-sized rivals with internal combustion engines. You'll notice a bit of tyre noise but overall, it's a very smooth, serene experience.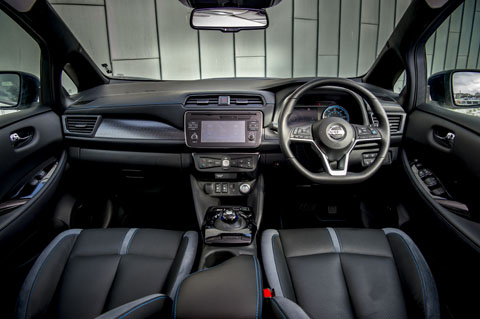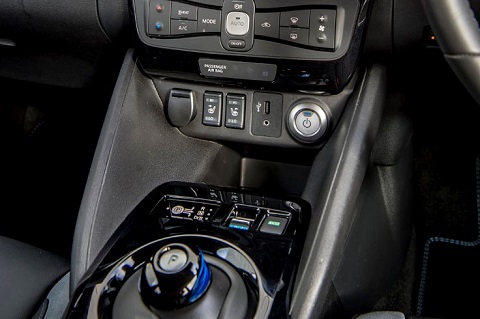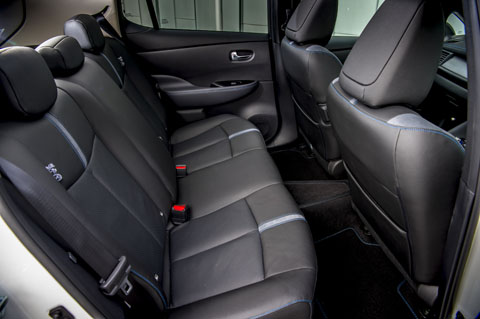 The world's first second-generation EV is very likeable indeed and delivers more of everything: power, range, technology, safety, style, space and quality. Nissan has listened to loyal customers and made over 100 changes to the car based on feedback. Officially the world's best-selling zero-emissions electric vehicle with some 300,000 on the road globally, there was still room for improvement and Nissan has worked hard to achieve that in its latest model.
Will it still take the baton of most loved EV, with competition in the market heating up? Whatever happens, the LEAF remains a vehicle that will bring more sceptics around to the idea of driving on electrons. There are still foibles, but even with the interior's shortcomings, once you add in low running costs, retained values and the fact it's easy to drive, practical and fun, it does a good job of convincing newly-receptive car buyers that electric vehicles are the way forward. It's a hatchback with few compromises.
It may have lost to the Renault ZOE in our best small electric car comparison test but as a family-friendly sized, fully useable daily EV driver, the LEAF is a clear winner.
And don't forget, if you do like this make and model of car you just read about, you could secure a discount if you use our partner e-car leasing service using the code DEV-ECAR.
2018 Nissan LEAF
Price: From £26,690 (before plug-in car grant of £3500)
Top speed: 89 mph
0-62mph: 7.9 seconds
Power: 147hp
Torque: 236lb-ft
Driving range (WLTP): 168 miles
Home charging (7kW on a 32A wallbox): 7 hours 30 minutes
Rapid charging (50kW, from 20-80 per cent): Approx 60 minutes
Insurance group: 22