The i3 wasn't BMW's first electric car. In the 1972 Summer Olympics held in Munich, Germany (the birthplace of BMW), the car maker showcased the 1602 E. Twelve lead-acid starter batteries powered the vehicle, which featured a 42hp electric motor. It could reach a top speed of 62mph and had a range of 37 miles.
Although organisers of the Summer Olympics used the 1602 E during the Munich games, the vehicle never went into production. Exactly 41 years later the BMW i3 appeared in our showrooms in 2013. It was the first premium compact electric vehicle and although it came with a price tag to match it was a great success. Since then it has been offered with consistent upgrades including a facelift and improved capacity battery.
BMW rates its cars by Amp hours (Ah) and the i3 was originally launched with a 60Ah battery (22.6kWh), increasing it to 94aH (33kWh) in the 2016 update and the latest i3 gets a 120Ah (42.2kWh). As a result, BMW has dropped the petrol range-extender version in Europe – as this new one will go as far on battery alone as the original REx would on both its sources.
As part of the changes being brought to the latest BMW i3 – dubbed 120aH – it also includes a more focused version of the model, called the i3s.
The new i3s is slightly more powerful than its standard sibling, power is up from 170hp to 184hp and at 199lb-ft vs 184lb-ft it's torquier too, but the differences are minimal on the road. Top speed is pegged at 99 mph in the i3s and that's only if you're using it in 'Comfort' or more efficient 'ECO PRO' modes (in 'ECO PRO+' setting your speed is restricted to 50mph). The i3s also has an extra Sport mode for sharper throttle response and tighter steering characteristics.
What is noticeable is the difference the 40mm wider front track, 10mm reduction in ride height, specially tuned springs, dampers and anti-roll bars make. Where the normal i3 understeers and likes to roll in the corners, the 's' grips better and generally feels a lot more planted and agile. It still pitches and bobs a little when it's bumpy – an inevitability of its tall, narrow body, but it is more befitting of BMW's tagline: 'Designed for Driving Pleasure'.
The i3 will beat most cars in a 0-30mph traffic light Grand Prix and that wickedly quick time of 3.8 seconds to reach 37mph (the 's' is one tenth of a second quicker) in an urban environment (where these EVs will spend most of their time), should prove immensely fun for owners. Where BMW really come into its own however, is with its regenerative braking setup – it's so much smoother compared to its competitors and genuinely allows for one pedal driving a lot of the time.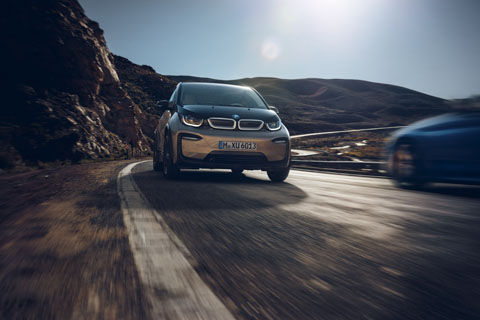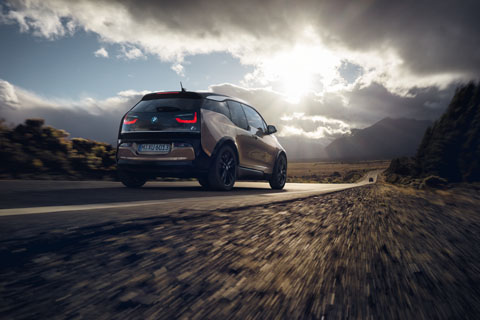 The latest range of high-voltage batteries on the new BMW i3 and i3s have doubled in capacity, and roughly in range too, without any increase in size. To put it into perspective, it is around the same as the Nissan LEAF, which now comes with a 40kWh battery.
Designed and developed independently by the BMW Group as an integral part of the eDrive technology, the batteries are installed deep in the floor. The lithium-ion high performance cells are combined with a cooling system that constantly keeps the battery at optimum operating temperature, thus increasing output and service life.
Because the i3 is light (around 1300kgs), on skinny tyres and aerodynamic, it's very efficient, providing a claimed WLTP-rated range of 192 miles for the i3S and slightly less for the i3 (177). That's an increase of almost 30 per cent compared to the previous 94Ah models. The combined power consumption of the BMW i3 is 13.1kWh per 62 miles, while the BMW i3s has a power consumption of 14.6kWh per 62 miles.
Charging can be relatively quick, too, taking less than five hours using the BMW i wallbox with a capacity of 7.4kW, or if you find a DC charger at a service station up to 80 per cent of battery charge can be replenished in just 42 minutes instead. At the opposite end of the scale, a normal household plug point with a charging capacity of 2.3kW will take approximately 15 hours to take it up to 80 per cent of its full power.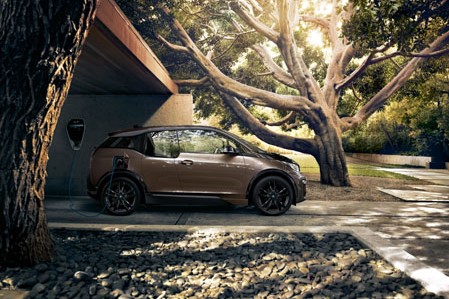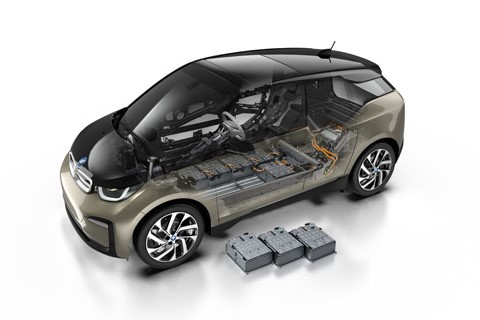 The i3 is still the only compact electric vehicle that looks futuristic, although its quirky looks are not for everyone we think it's very cool and love how it's constructed from carbon fibre and aluminium. Judges of the World Car Design of the Year must agree with us as they bestowed it with the Gold iF award for product design. In fact, its manufacturing processes, sustainability and packaging has gathered many accolades and awards over the years.
The trademark BMW i Black Belt running from the bonnet over the roof to the car's rear end is now complemented by A-pillars and roof lines that also sport a black finish. There is a new exterior paint finish and a new colour for the optional Loft World interior theme, as well as optional Adaptive LED headlights featuring anti-dazzle functionality. The i3s gets 20 inch wheels shod in wider tyres and a subtly redesigned front bumper.
Inside, the styling is just as distinctive and it's still constructed with recycled materials or renewable resources, covering over 80 per cent of the surfaces. BMW's usual centre transmission tunnel is gone and the floor is totally flat up-front, which together with the low window line, thin seats and tall airy cabin, provides a real roomy feeling.
There's no conventional instrument cluster – just two high-definition LCD screens, one behind the steering wheel and a 10.25 inch monitor at the top of the centre console. Again it's all very space age looking. BMW's new iDrive 6.0 is now standard, while it also gets an optional WiFi hotspot for up to ten devices and wireless charging for capable mobile phones. Apple CarPlay is an optional extra but unfortunately Android Auto is not available.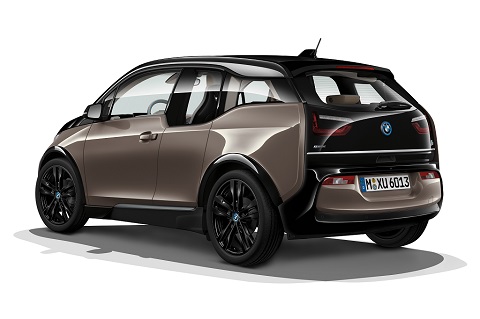 The drivetrain is quiet, especially compared to its rivals, and tyre and wind noise are low, too, so it's a rather blissful place to be (when the kids aren't screaming, of course).
The seating position in the i3 is almost SUV-like but because it's short it's easy to park and navigate crowded, small city streets, which is a bonus. There's lots of space up front too, with plenty of adjustment for the driver's seat and steering wheel so it's easy to get comfortable. In addition, there are neat cup holders, armrest storage and cargo nets.
This is a strict four-seater, and rear passengers climb through rear-hinged back doors, which with no B pillar, makes it easy to get in and out. Unfortunately the front doors have to be open first which is a bit unhelpful when offloading children. Boot space is limited at 260 litres with the rear seats up, but will probably prove sufficient for most regular commuters or a parent doing the school run, and unlike the Renault ZOE there is no loading lip and the seats split 50:50.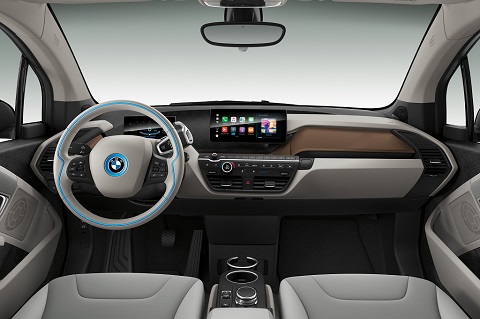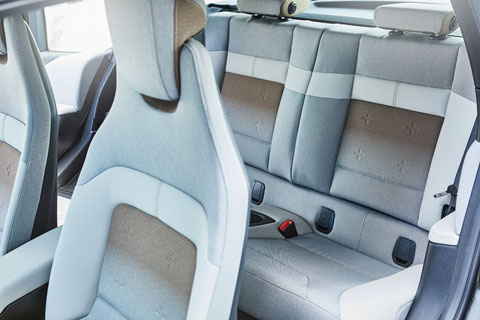 When it comes to compact contenders, there's only one premium choice and that's the BMW i3. It faced some heat with other market players such as the Nissan LEAF because of its range, but with the latest 120Ah battery pack that's been resolved.
Overall the new all-electric i3 and i3s are innovative and stylish, but also eco-conscious, efficient and relatively practical. It's expensive to buy outright but put it up against conventional diesel versions of premium rivals like the Audi A1 and the Mercedes-Benz A-Class that are similarly priced, and it makes the i3 look increasingly attractive with much cheaper running costs.
Despite being six years old the i3 has still got the best looks, and in uprated i3s guise, it is one of the most rewarding electric cars to drive. It is no wonder it was Europe's third best-selling plug-in car of 2018. If this is the future for small EVs, it looks bright.
2019 BMW i3 and i3s (120Ah)
Price: From £35,180 (i3 before plug-in car grant of £3500); £37,670 (i3s before plug-in car grant of £3500)
Top speed: 93mph (i3); 99mph (i3s)
0-37mph: 3.8 seconds (i3); 3.7 seconds (i3s)
0-62mph: 7.3 seconds (i3); 6.9 seconds (i3s)
Power: 170hp (i3); 184hp (i3s)
Torque: 184lb-ft (i3); 199lb-ft (i3s)
Driving range (WLTP): 177 (i3); 192 miles (i3s)
Home charging (BMW i wallbox, 7.4kW, 0-80 per cent): 4 hours 54 minutes
Rapid charging (0-80 per cent, 50kW): 42 minutes
Insurance group: 28 (i3); 29 (i3s)