If BMW's i8 is a vision of the future then die-hard fans of the internal combustion engine may converted to hybrids. Put simply, it is a revelation in the supercar segment. It is the poster car of the twenty-tens, fun to drive and blisteringly quick, completing the 0-62mph dash in 4.4 seconds, yet delivers the fuel economy of a family car.
Those astonishing numbers are not the result of black magic, but a 1.5-litre three-cylinder turbo engine (the same one you'll find in a MINI Cooper nonetheless) with 228bhp and 236lb-ft of torque driving the rear wheels and a 129bhp, 184lb-ft electric motor driving the fronts. That equates to a combined output of 357bhp in a car that weighs 1560kg – okay so it is not quite in the territory of some Ferraris but it is more than enough. As the first car of its kind, I think we can be a little forgiving here.
A little annoyingly, a fake engine noise is projected though the speakers – but then what else could BMW do, and besides they are not the only manufacturer guilty of faking it. It is also not as economical in reality as BMW quote, but again, the gap between real world fuel consumption and that quoted by car manufacturers have been getting wider and wider over the past decade. However, it is significantly better than what you would get from other cars of the same power and what other manufacturer has made a three-cylinder engine so bloody exhilarating?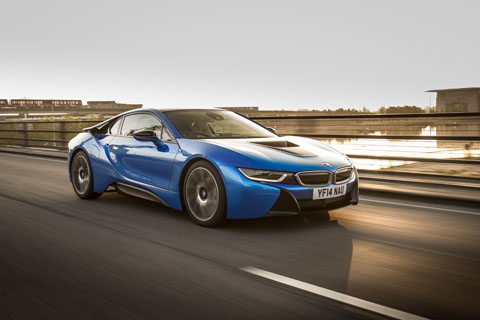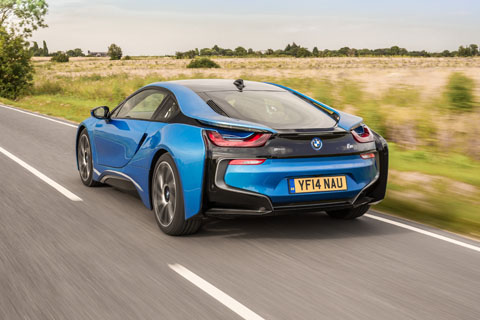 I had the benefit of Bruntingthorpe Proving Ground at my disposal (a privately owned vehicle test track facility) and with the torque of the electric motor gifting the car instant acceleration it actually feels a lot faster than it is. Although it comes with a six-speed automatic transmission, which offers seamless changes, it doesn't matter what gear you're in as it responds instantly to every dab of the throttle.
As it is supercar-cum-eco car it does offer different driving modes. In Sport mode the petrol engine and electric motor work harmoniously together, gear change times are shortened and an extra-sporty setting is selected for the Dynamic Damper Control and the Electric Power Steering. In Comfort or Eco Pro mode, the i8 will try to run on electric power alone, bringing in the petrol engine when you accelerate aggressively or go above 45mph, and when eDrive is selected it will just use the electric motor.
Bruntingthorpe has a sprint circuit and the chassis, which is made from carbon-fibre reinforced plastic (CFRP) and specifically developed by BMW for its electric cars, was more than capable and what one would expect from the brand. Through the bends, it felt responsive and planted and that is partly thanks to the electric motor, which gives the i8 all-wheel drive, but the steering had too little feel and could be more weighted.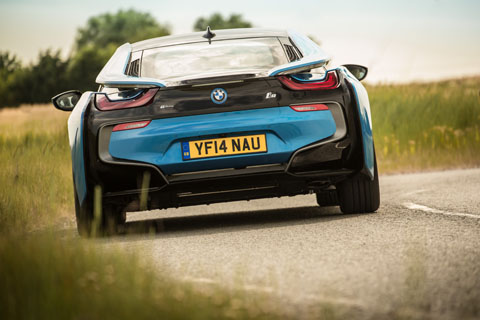 Running purely electric, the car can manage 22 miles at speeds of up to 75mph. A combined range of 330 miles is possible. Fuel consumption is a claimed 134mpg, but during my time with the car, I averaged 30mpg – I was making the most of being able to exceed the speed limits however, most other road testers have seen an average return of early 40s. Of course, running costs depend on how you use the car, if you have access to a charging point and you only use it for a short daily commute you could save hundreds of pounds in fuel within just a few months.
Using a standard household supply, the i8 takes eight hours to charge from flat, but with a special BMW-supplied wallbox, which will set you back £315, you can charge the vehicle to around 80 per cent within two hours. Most BMW dealerships have a few charging stations and the network is slowly growing, but in theory with a 32 litre fuel tank it can cover around 300 miles on a full charge and with a full tank.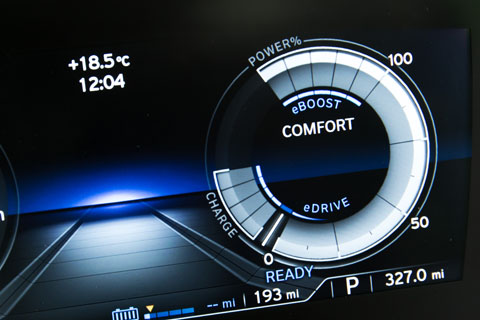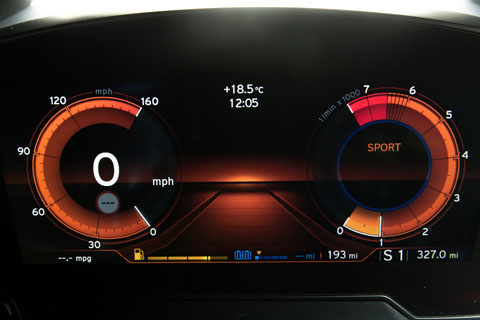 Aside from the M1 (which interestingly was the only other mid-engine production car in Munich's history), it is BMW's most striking and daring car ever. Cleverly integrating the dramatic dimensions of a supercar, with elegant curves and distinctive futuristic design cues means it is the centre of attention wherever it goes. Inside, the wraparound dash dominated by a pair of 8.8inch HD screens (one for the speedo, rev-counter and energy use, the other for the navigation and infotainment) is slick and contemporary yet unmistakably BMW.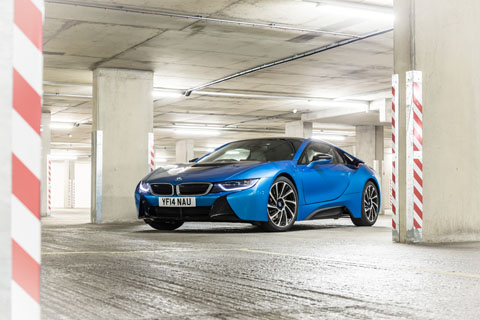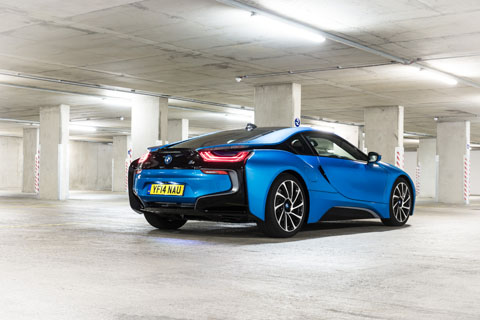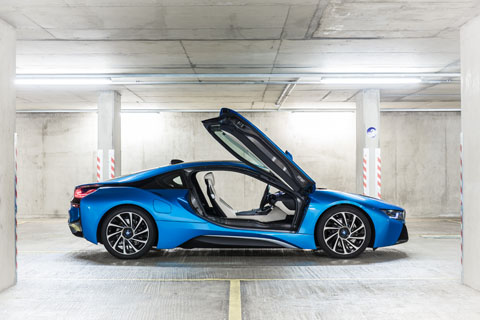 This is not a practical car. The rear seats and boot offer very little space (although adequate for small adults and a few weekend bags) and the butterfly doors make it difficult to get in and out of and parking in a tight multi-storey car park might result in swiping off the side mirrors of other cars –that's if you can get in it, of course.
Again, those gripes can be forgiven, for the BMW i8 is an innovation in terms of design, performance and efficiency – it pushes the barriers of sports car conventions and is an incredible achievement. It may lack the outright driving thrills of the best £100k sports cars, but its petrol-electric hybrid drive system makes the i8 a lot more frugal in terms of MPG and running costs. Auto Express said "we may end up looking back on the i8 as the supercar that saved the supercar from extinction", and I think they could be right.
2014 BMW i8
Price: £99,845 (before £5000 plug-in grant)
Engine: 1499cc three-cylinder turbo-diesel petrol (rear) and electric motor (front)
Gearbox: 6-speed auto (rear engine), 2-speed auto (front electric motor)
Top speed: 155mph
0-30mph: 2 seconds
0-62mph: 4.4 seconds
Power: 228bhp at 5800rpm and 129bhp
Torque: 236lb-ft at 3700rpm and 184lb-ft
Driving range: 15 miles
Home charging (BMW Wall I wallbox Pro, 0-80 per cent): Less than two hours
Insurance group: 50