Introduced in 2014, the e-up! was Volkswagen first fully electric car, and it's since spawned the e-Golf, GTE Passat and Golf, and the Audi e-tron A3 and Q7 too, as sales of plug-in hybrid cars soar by nearly three-quarters year on year. A modified version of the VW up! the supermini which claimed World Car of the Year title in 2012, it promised to be a terrific car. And it is – smart, a joy to drive and cheap to run, there are just two things standing in its way – price and range.
This car costs from £23,115 – okay so that's without the £3500 incentive the government slips into the back pocket of anyone buying an electric car, but the standard up! cost from £9825. You'd have to spend £9790 on fuel, road tax and (if you commute into London by car) congestion charges over the total lifetime of owning it before you broke even. So, there are fewer moving parts which in theory means less maintenance, fixed-price servicing is reasonable and all electric components and the battery are guaranteed for eight years (or 99,360 miles), but this car overall does not make good economic sense.
Then, there's the question of depreciation, and nobody knows how much life it will have at the end of its guarantee, but the other elephant in the room is the range – an anxiety-inducing 83 miles.
It is a real pity as the up! works so well as an electric vehicle.
The e-up! is powered by a 60kW electric motor that produces 81hp and 155lb-ft of torque, and it takes a lengthy 12.4 seconds to get up to 62mph, although as it can deliver its full quota of torque from zero rpm, its performance does make it seem a little bit quicker than these figures would suggest. In fact, 37mph from standstill is reached in just 4.9 seconds, so it's really good for zipping around town and it will keep up with traffic on the motorway, just – it tops out at 81mph. Of course, it you do stamp the accelerator to the floor, you'll start to notice a big drop in driving range.
The combustion engine up! has always received praise for its engaging driving experience, but it did suffer from excess body roll – with the all-electric version, the extra weight from the battery gives the car a lower centre of gravity, so it holds the road a lot better. It's a real joy to drive, and our only disappointment is with the standard energy saving tyres which aren't the grippiest. Steering and feedback is sharper and more responsive than the Renault ZOE, and it generally rides well even when you're on uneven road surfaces.
Many will enjoy the default driving mode (D), in which the e-up! coasts very much like a regular petrol or diesel car when you stop accelerating, rather than defaulting to heavy regenerative braking force like a lot of electric cars we've driven.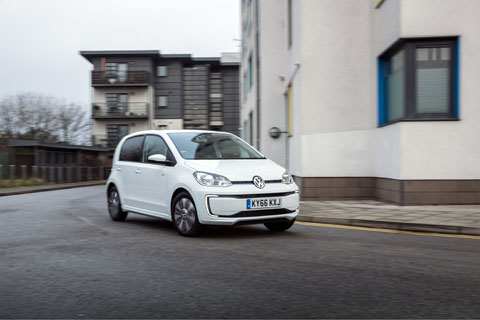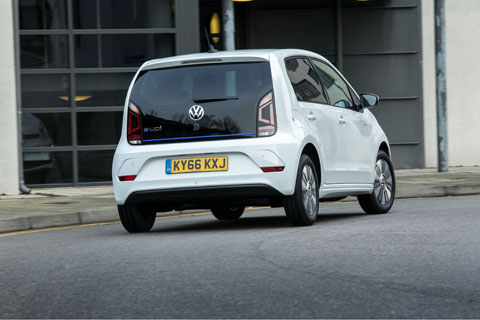 The e-up!'s range is rather less impressive, with Volkswagen quoting 83 miles in optimum conditions – real-world testing brings that figure down by roughly a quarter. Only the Smart Fortwo EQ travels a shorter distance on a full charge, but it costs a lot less than the e-up!. VW are realistic however, they say owners can expect a real-life range of 75-103 miles in summer, and 50-75 miles in winter.
There are two economy driving modes – ECO and Eco+, the latter of which limits maximum power further and modifies the throttle response beyond the Eco setting and disables the air conditioning (rather than reducing the output).
The range can also be influenced by the four regenerative braking options of varying aggression (D1, D2, D3 and B), chosen via the gear selector, and if you anticipate the road and traffic conditions and learn to adapt your driving style, you rarely need to use the footbrake.
A standard 3-pin socket will take nine hours to fully charge the car from empty; however a rapid charger will give an 80 per cent charge in just 30 minutes. Using an optional wallbox for home use, which provides a 3.6kW supply you can recharge a completely flat battery in six hours. The e-up! uses just 11.7 kWh per 62 miles and VW say it roughly costs just under £3 to charge overnight.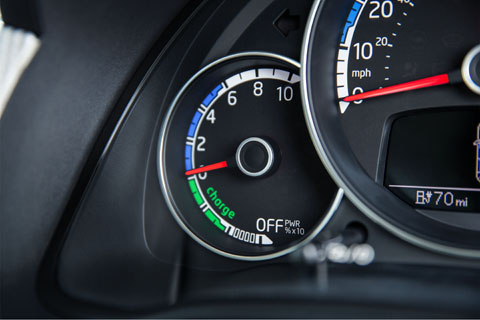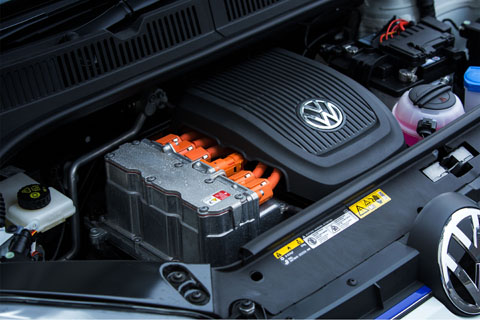 Outside the e-up! looks great – it's a classic VW recipe of simple and angular looks that will prove timeless. Bar the badges on the front wings and bootlid, distinctive C-shaped LED daytime running lights and 15 inch alloy wheels you would struggle to tell it apart from its internal combustion-powered counterpart.
For 2017, the model gained revised interior and exterior styling, plus an advanced new infotainment system however the battery pack and its range remained the same.
The interior fittings are near identical to standard, save for the instrumentation that tells you how much electricity you're using (or regaining) and how much charge is left in the batteries, which is hugely disappointing given it's based on a car under ten grand. It does at least come with most of the option boxes ticked with more kit than the range-topping petrol High up!, including electronic climate control, cruise control, LED daytime running lights, rear parking sensors, heated front seats and 5 inch touch screen and mobile phone mount to run the smartphone app, including Car Net, which includes a three-year subscription.
The only other change is the upholstery is edged in blue, while the leather-covered steering wheel, gear lever and handbrake all have blue stitching.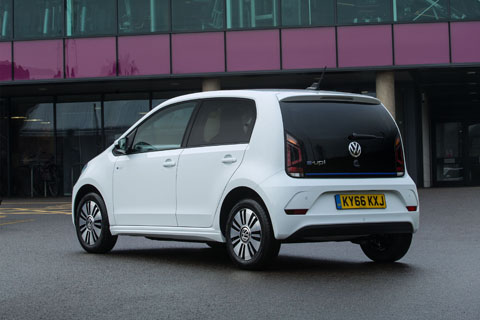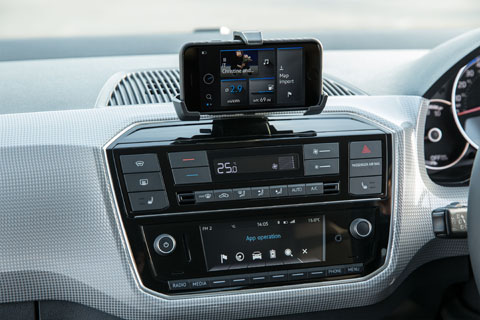 Despite the fact this is a car that has been converted to electric power, it hasn't sacrificed on space. The 230kg battery is cleverly built beneath the floorpan and just in front of the rear axle, so boot space is the same as a regular up!, which to be fair isn't massive but it is a small city car. With the centrally split folding rear seats down there's 923 litres of luggage capacity. A double level boot floor means the space beneath can used to store your cables (to connect to both a standard UK 3-pin socket and a CCS socket) which are kept in a neat bag.
Storage is ample for a small car, with four large door bins, decent-sized glovebox and two cup holders. The e-up! is only available as a five door, and there is plenty of room for four large adults to feel comfortable, too. With wide rear opening doors access is easy, great for getting to the ISOFIX child seat mounting points, which add to the excellent safety list (also including city emergency braking and stability control as standard) and scores five-star Euro NCAP crash test rating. All in all, it is quiet and refined, and amazingly comfortable.
If you travel regular, short journeys this car makes sense. Unlike the i3 which falls short a little of feeling like a true BMW, this is so much a member of the Volkswagen family that one feels immediately at home behind the wheel. In fact, it feels almost uncompromised by its electric motor, which is a feat in itself. The bottom line is you need to use it frequently to make the required running cost savings to compensate for the high purchase price. Hopefully the arrival of more competition will bring prices down. It has already dropped by £2395 with VW reducing the price in November 2018.
2017 Volkswagen e-up!
Price: From £23,115 (before plug-in car grant of £3500)
Top speed: 80mph
0-37mph: 4.9 seconds
0-62mph: 12.4 seconds
Power: 81hp
Torque: 155lb-ft
Driving range (WLTP): 83
Home charging (2.3kW): 9 hours
Rapid charging (40kW): 30 minutes
Insurance group: 10